Diane Gillis of Burnaby asks when will there be an investigation into a health care system that fails those suffering with untreated mental illness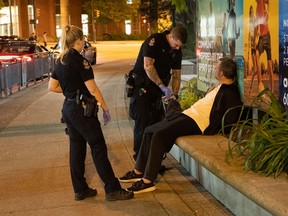 Article content
Re: Oversight agency investigates after Vancouver police Taser a suicidal man, then bump fist
Article content
When will a probe be launched into our health care system failing those suffering with untreated mental illness? Section 28 of the B.C. Mental Health Act basically states that police may apprehend a person acting in a way that endangers their own safety or the safety of others. Mental illness is not a crime. The lack of accessible, effective treatment for those suffering with untreated mental illness is a crime.
When I trained as a nurse 50 years ago, I did provide care for people being treated for mental illness and saw many people effectively treated and discharged to live their lives, not just exist on streets or in parks and self-medicate with illicit drugs to numb the pain of their mental illness as now too often happens. This leads to police responding to even more calls for service such as those related to, for example, theft by those seeking money for illicit drugs or food to eat. Police are rarely thanked for the work they do and are not thanked for what they prevent as it never happens.
Article content
I will continue to advocate for accessible, effective treatment for those suffering with mental illness. I look forward to the day when, in addition to the thanks those working for and in health care currently receive, we can thank them for accessible, effective treatment for those suffering with mental illness so those people can truly live full lives as so many of us are able to.
Diane Gillis, Burnaby
Research your municipal candidates before voting
As far as I'm concerned, people who constantly complain about Vancouver Mayor Kennedy Stewart have no one to blame but themselves. Where were these people in the last municipal election four years ago? Unless we do our research on candidates that run for office, we're not going to end up with positive results.
Article content
Staying home on election night is not the answer. If we don't get out there and vote, then we get the municipal politicians we deserve.
Michael Bardouniotis, Surrey
Lodge will be rebuilt
Re: Fire destroys 70 suites at Shuswap's Quaaout Lodge at Talking Rock Golf Resort
The Lodge structure was destroyed by fire last week. The staff and volunteer fire department deserve credit for fast and effective action.
The executive is working hard to continue the golf season from temporary headquarters for the balance of the season.
We shall rebuild the structure. It will take time but it will be done.
George Pearson, Staff member of Talking Rock Golf and Quaaout Lodge, Chase