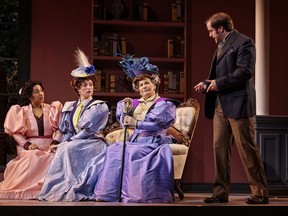 Reviews and recommendations are unbiased and products are independently selected. Postmedia may earn an affiliate commission from purchases made through links on this page.
Article content
Oscar Wilde's The Importance of Being Earnest has been delighting audiences around the world for 127 years and is considered the British Victorian playwright's crowning achievement.
Article content
It's a farce about a pair of dandified English gentlemen who decide it's time they got married. John Worthing (Jack) is going to propose to his best friend Algernon Moncrieff's niece, Gwendolen Fairfax, and Algernon plans to woo Jack's ward, Cecily Cardew. The problem is both women vow only to marry a man named Ernest which means both Jack and Algernon must somehow, very quickly, be rechristened.
Article content
It's silly stuff to be certain but Wilde himself said The Importance of Being Earnest is a trivial comedy for serious people and that all the nonsense gave him licence to make fun of Victorian morals, conventions and attitudes.
The Importance of Being Earnest features Wilde's greatest comic creation in Lady Augusta Bracknell, Gwendolen's mother, a powerful, arrogant, ruthless woman who Algernon calls a gorgon. Even if they should be able to change their names, the men will have to earn her approval.
Article content
Lady Bracknell has been played by such renowned actors as Judi Dench, Edith Evans, Maggie Smith, and even David Suchet took time out from playing Hercule Poirot to play her in drag as did Brian Bedford at Canada's Stratford Festival. Lady Bracknell has proven to be a dream role for mature actors of either sex.
In Theatre Calgary's version of The Importance of Being Earnest, which runs in the Arts Commons' Max Bell Theatre until Nov. 19, Valerie Planche will revel in the outlandish excesses and self-righteous pronouncements of Lady Bracknell.
"Doing Wilde demands so much of actors. His language is so precise, so witty and so clever that to make it sparkle as it should, we need to be acrobats," says Planche who, last season, directed Theatre Calgary's production of Steel Magnolias.
Article content
Algernon may see Lady Bracknell as a terrifying gorgon but not Planche.
"She's a mother who's trying to make a good match for her daughter and that means finding a man with, not just position, but money. Lady Bracknell knows the possibility of being without money and how important it is to always maintain the illusion of wealth.
"I'm going to champion her as a mother with Victorian maternal instincts, which means having good nannies and good governesses," says Planche, adding that "Lady Bracknell is a paragon of Victorian virtue and that's what makes her a monster in Algernon and Wilde's eyes and what makes her such an object of disbelieving laughter for the audience."
Often actors look inside themselves to find similarities they can access to play a character, but Planche says she and Lady Bracknell have very little in common.
Article content
"I don't have children or money so those aren't starting points. Perhaps she and I share a kind of blindness. She lives in a world of denial. She knows change is rattling the cage, but she prefers to hold on to the security of the past. Acknowledging that rattling is when we both put blinders on.
"Like Lady Bracknell, when I look at what is happening in our world these days, I just want to shut it all out and watch a few episodes of Seinfeld."
Planche says she finds it easier to laugh at herself than Lady Bracknell does.
"In Earnest, Wilde is asking us to laugh at ourselves and that's something I am able to do. Through Lady Bracknell, Wilde was making fun of the very people who came to see the play. What she says and seems to believe are so outrageous but that doesn't mean we haven't thought a little this way ourselves at some point."
Article content
Planche says it's difficult to find contemporary parallels for the characters in The Importance of Being Earnest because they are so specifically Victorian but wonders, if perhaps "Cecily might just be Meghan Markle to Algernon's Prince Harry."
Joining Planche in The Importance of Being Earnest are Christopher Duthie as Algernon and Michael Rolfe as Jack with Emily Howard as Gwendolen and Kathleen Faith Ballangan as Cecily. Rounding out the cast are Kevin Rothery, Duval Lang, Shari Wattling and David Sklar.
Tickets and further information are available at theatrecalgary.com.
Theatre Calgary's The Importance of Being Earnest runs in the Arts Commons' Max Bell Theatre until Nov. 19.