The maximum premium will remain at $710, Quebec's health ministry says.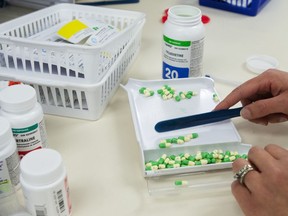 Article content
QUEBEC CITY — There will be no increase in the maximum annual premium for Quebec's public prescription drug insurance plan during the next 12 months.
Article content
The maximum premium will remain at $710 until June 30, 2023, Quebec's health ministry said Thursday in a statement. The decision was endorsed by the cabinet following a recommendation by the board of directors of the Régie de l'assurance maladie du Québec.
Agreements with manufacturers wishing to list new products on the province's general drug insurance registry paved the way for the freeze, according to Health Minister Christian Dubé. The favourable price conditions and discounts included in these accords mitigated the cost associated with new-drug coverage.
A switch to "biosimilar" products, which are much less expensive than the reference biologics, created sufficient financial flexibility to freeze the premium, Dubé said.
Biosimilars are authorized for sale using the same rigorous regulatory standards for quality, efficacy and safety as for all other biologic drugs, Health Canada says.
Other contribution parameters remain unchanged. They include the deductible amount, set at $22.25, the proportion of co-insurance, set at 35 per cent, and the monthly contribution for certain people 65 and over.
Allison Hanes: Rx for the family doctor shortage

Delean: What changes, what doesn't, under RAMQ