The country's 13 premiers are in Victoria for a second day as they discuss health care, inflation and post-pandemic economic recovery.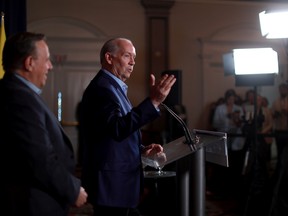 Article content
As the 13 premiers gathered in Victoria realized Tuesday their demands for more health care dollars would not be met by Ottawa, they became increasingly hostile, accusing the federal government of ignoring them and negotiating through the media.
Article content
B.C. Premier John Horgan, who has been polite to Prime Minister Justin Trudeau, took off the gloves in the fight with Ottawa. And he had in his corner the country's 12 other premiers who have called, to no avail, for the federal government to boost its share of health care funding from 22 per cent to 35 per cent. For B.C., that would mean an increase of $3.9 billion a year.
Horgan is the chair of the Council of the Federation and hosted provincial and territorial leaders in B.C.'s capital Monday and Tuesday to discuss health care, inflation and post-pandemic economic recovery. It was the first in-person meeting since 2019.
Horgan portrayed the premiers as champions of everyday Canadians who don't have a family doctor or are facing long waits in emergency rooms, while characterizing the federal Liberals as out of touch.
Article content
"With the greatest respect to federal ministers who are now suggesting that everything is fine, go and talk to human beings. Go and talk to patients. Go and talk to health care providers," said an exasperated Horgan. "We are echoing what people are telling us in our communities across the country."
Federal Health Minister Jean-Yves Duclos recognized that health systems are in crisis which is directly impacting provinces and territories. He said he's been working steadily with his provincial and territorial counterparts, while transferring billions of dollars to shore up the system.
"We have stepped up together in terms of policy but also in terms of funding," he said, adding Ottawa has already agreed to do more over the long term. Duclos did not offer a timeline for those negotiations.
Article content
Ontario Premier Doug Ford said it's insulting that the federal government is sending its message through the media instead of sitting down and talking to the premiers. Horgan said he sent a letter to Trudeau in December about health-care funding and has not heard back.
Horgan painted a dire picture of health care in British Columbia, further shaking confidence in a system critics say is on the verge of collapse.
It's time for the federal government to "stop quibbling" and "do what Canadians want us to do, get ourselves back on track to have an (enviable) world-class health care system, not one that was crumbling under our feet," Horgan said.
About two dozen people on Tuesday morning stood outside of the Fairmont Empress hotel, the conference venue, hoping the premiers would take notice of their calls for immediate action on fixing the health-care crisis that has left almost a million British Columbians without a family doctor and has led to some emergency rooms closing temporarily because of staff shortages.
Article content
"Good," Horgan said of the protesters, "because it appears the federal government thinks everything is fine, but we know in provincial capitals across the country that's not the case. The issues that are emerging in British Columbia are also emerging in Ontario and Quebec, in Prince Edward Island, in Newfoundland and right across the board."
Canadian Medical Association president Dr. Katharine Smart, who met with the premiers on Monday, said the unprecedented staff shortages expose a health care system "heading toward collapse" and is in desperate need of modernization.
In B.C., only 50 per cent of family doctors are working in longitudinal medicine, Smart said, because of outdated payment models, the administrative burden of running a clinic and challenges in meeting the needs of aging or more complex patients.
Article content
Such a massive overhaul can only be done with federal and provincial collaboration, Smart said.
In an interview with CBC on Monday, Intergovernmental Affairs Minister Dominic Leblanc called the provincial figure of 22 per cent "fake" and said it doesn't take into account tax powers transferred from Ottawa to the provinces and territories that last year was worth $20 billion.
Horgan said it's not good enough to get a call from Leblanc at 8 a.m. on the Sunday before the conference "after months of inaction and saying we're working together."
Leblanc also said the federal government will not hand over money without strings attached because Ottawa can't allow a situation where it ups health care spending while the provinces run surpluses or give rebates back to taxpayers.
Article content
Alberta Premier Jason Kenney said it's "cheap and disingenuous" to suggest provinces and territories can't provide people decent health care while also providing relief from 40-year high inflation rates.
Kenney said none of the premiers have received a letter or any communication from the federal government that lays out possible conditions for increased health funding.
"If they've got something to say to us about conditions, come and sit down and say it," Kenney said. "But so far it just looks like they're lining their pockets. They have no intention of paying their share."
In a statement Tuesday, B.C. Green party leader Sonia Furstenau slammed Horgan for failing to take accountability for the state of health care in B.C. and for asking Ottawa for health care dollars "with no plan on how to spend it."
Article content
That shows the premier hasn't been listening to doctors, nurses, patients and health care experts, Furstenau said.
"Their calls for change are clear: Immediately modernize the fee-for-service system, recruit and support nurses, cover psychologists under MSP, and create community health care infrastructure so that health care providers can work independent of government as teams," she said.
Increased funding from the federal government should require the provinces and territories to show clear outcomes including attaching all British Columbians to a family doctor, Furstenau said.
with files from the Canadian Press 
---
More news, fewer ads: Our in-depth journalism is possible thanks to the support of our subscribers. For just $3.50 per week, you can get unlimited, ad-lite access to The Vancouver Sun, The Province, National Post and 13 other Canadian news sites. Support us by subscribing today: The Vancouver Sun | The Province.