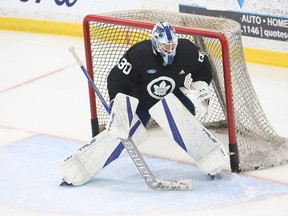 Article content
Those two Stanley Cup rings that Matt Murray has sitting in his trophy case remain rather shiny for new Maple Leafs teammates.
Article content
True, it will be six years next spring that the veteran goaltender most recently won the Cup with the Pittsburgh Penguins, and there have been struggles since for the 28-year-old, but Murray's rings carry plenty of weight in the Leafs dressing room.
Article content
Veteran Leafs defenceman Mark Giordano has played in 1,024 regular-season games in the National Hockey League since his debut with the Calgary Flames in the 2005-06 season. Giordano has skated in just five post-seasons, amounting to 30 playoff games.
Article content
"I've been in the league a long time and I haven't had the luxury of playing in deep playoff runs, and I want to look at a guy like Murr and take experience from him and learn from him, because he has been there and he has done it," Giordano said. "That's pretty valuable experience, having a guy who won two Cups and been the starting goalie.
Article content
"Think about it. He wasn't playing with a goaltending partner there that was easy to take that spot from. I look at (Marc-Andre) Fleury as one of the best goalies in the league. (Murray) probably gained a lot of experience from him.
"At certain times in Pittsburgh, he was the starting guy ahead of Fleury, which is saying a lot."
Murray has 51 Cup playoff games on his NHL resume, compiling a 29-21 record and a .921 save percentage. 
For now, the Leafs simply want Murray to rebound from a tough couple of seasons with the Ottawa Senators. That is expected to start in earnest on Wednesday in a pre-season home game against the Montreal Canadiens, when Murray is scheduled to start and get 40 minutes in the crease in his Leafs debut.
Article content
KALLGREN IN MIND
With Joseph Woll working his way back from shoulder surgery, Erik Kallgren continues to solidify his spot on the Leafs' goaltending depth chart behind Murray and Ilya Samsonov. 
The Leafs got a 14-game glimpse at the 25-year-old last March and April, when Kallgren put together a record of 8-4-1 with an .888 save percentage and 3.31 goals-against average. Not exactly scintillating numbers, to be sure, but the Leafs hope the stint was enough of a base for Kallgren if he is called upon in 2022-23. Considering the injury history of Murray and Samsonov, it's a good bet Kallgren will be tapped at some point.
"He's very important," Leafs coach Sheldon Keefe said. "For good reason — with the arrival of Murray and Samsonov — he is sort of the forgotten guy, but he's a guy that came in and played well for us last season at times. 
Article content
"When we were reeling quite a bit in goal for a while, we couldn't get any traction, he comes up from the (Toronto) Marlies and stabilized us and allowed us to get confidence and get rolling. 
"We haven't forgotten about that. We haven't forgotten about him. He just goes about his business. It's going to be a challenge to get him in the net a lot the rest of the way (in the pre-season), because the other two guys are going to take on a greater workload. 
"It's important that we continue to work with him and he gets time with (new Leafs goalie coach) Curtis Sanford and they build their relationship, because you never know what the season brings. He's pushing and wants to do his best when the opportunity may come."
LOOSE LEAFS
The Leafs had a full day off on Sunday, and Keefe was not anticipating making major changes to his camp roster yet, saying the club would get through this week before making a significant number of cuts. The final three pre-season games will be crucial for those players remaining on the bubble. Marlies camp is slated to start on Oct. 3 … Before we get too carried away with the possible offensive potential of Calle Jarnkrok, let's remember that his career high for goals in one season is 16, done twice with the Nashville Predators and not since 2017-18. What's not in doubt is whether Jarnkrok, who turned 31 on Sunday, will work for every chance he gets. He will … We should get more clarity this week on the status of winger Pierre Engvall, who is dealing with an ankle/foot issue, and defenceman Jake Muzzin, who has not yet participated because of back discomfort. Engvall has been skating on his own … Samsonov soon will reveal a new mask, possibly in the next game he plays. "It's a good one," was all the goalie would say, drawing laughter from media … The Leafs will honour 1972 Summit Series team during a pre-game ceremony on Wednesday prior to playing the Canadiens. That night, Sept. 28, will mark 50 years since Paul Henderson's goal in the eighth game against the Soviet Union won the series for Canada. "It's going to be a cool moment," Keefe said. "We probably have a good number of players that are playing in the NHL that don't know much about it. An opportunity in our building to acknowledge it and reconnect with such an incredible moment in Canadian history, and in hockey history, is outstanding."