Port efficiency has taken on a new level of urgency amid pandemic supply disruptions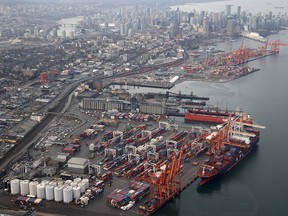 Article content
The Port of Vancouver — the main gateway for consumer goods entering Canada from the manufacturing powerhouses in Asia — is among the worst performers, ranking 368th out of 370 ports around the world, according to a new report.
Article content
Compiled by the World Bank and S&P Global Inc., the report brings fresh information to conversations on port performance, a subject that the authors note is notoriously difficult to evaluate due to poor data and inconsistent tracking metrics around the world.
Port efficiency has taken on a new level of urgency, given the extreme supply disruptions that have come to characterize the economic recovery from the COVID recession. The world woke up to the critical role of maritime traffic in March 2021 when a container-laden ship ran aground in the Suez Canal, clogging a key shipping passage for the better part of a week, leading to ripple effects that lasted much longer. The incident served as a harbinger of the future havoc the pandemic would inflict in the form of port congestion.
Article content
Now, as companies and countries reconfigure supply chains and economists debate what's causing the fastest inflation in decades, ports are facing fresh scrutiny. Policymakers are parsing whether West Coast ports that experienced congestion, such as Vancouver but also Los Angeles and Long Beach in the U.S., underperformed, or were simply overwhelmed by a heightened demand for consumer goods.

The ranking is based on data gathered in 2021, an unusual year that saw global demand recover surprisingly quickly from the epic collapse caused by early waves of COVID-19. Several experts said even the most efficient ports would have struggled to cope with the surge in demand for goods that occurred during the pandemic. Nathan Strang, director of ocean trade lane management at Flexport Inc., a logistics consulting firm, said the impacts of the pandemic combined with unexpected demand for consumer goods created a one-two punch that lead to congestion at ports on the West Coast.
Article content
"If you have a cup that can hold 12 ounces of liquid, and you pour 13 ounces in, it's going to spill over until you can reduce the volume in that cup," said Strang.
'Negative feedback loop'
That's essentially what happened at North America's West Coast ports. As the pandemic spread around the world it lead to unusual fluctuations in port traffic, creating a "negative feedback loop" as soon as West Coast ports reached capacity, Strang said. "The more congestion there was, the more desire there was to move the cargo quicker, and the more likely those ships were going to the West Coast because of that shorter transit time," he said.
At the port of Vancouver, for example, trade publications reported in December that 60 ships were waiting to berth, even as mudslides from wildfires had severely limited rail service out of the port. But far from deterring traffic, between January and April, the port reported that inbound container laden traffic grew 30 per cent.
Article content
The "ranking in this report reflects an analysis of a unique point in time that includes impacts from last summer's wildfires in B.C. and the severe flooding in November, which cut off the Port of Vancouver from national supply chains fully for eight days and partially for an additional nine days," the Vancouver Fraser Port Authority said in a statement when asked for a comment on its poor showing.
A port authority spokeswoman added that more than $1 billion in infrastructure improvement projects are under construction across the Lower Mainland.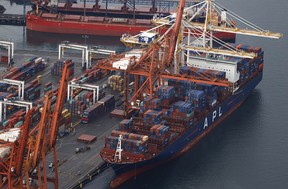 But as the country faces the highest consumer price inflation since the late 1980s, clocking in at 6.7 per cent in April, extra costs and product shortages added to by bottlenecks at any port, including many others along the West Coast of Canada and the U.S., are drawing attention.
Article content
Delivering cargo from Asia to a West Coast port is almost always faster than delivering to an East Coast port, Strang said. For example, Strang estimated that traveling through the Panama Canal to an East Coast port in New York or Virginia could add an extra 20 days to a trip.
Meanwhile, many East Coast ports received high rankings in the recent report: the Port of Halifax ranked 46th overall and third in North America, after the Port of Virginia and Miami, respectively. (Saint John was 240th overall and Montreal was 311th. The top ranked port in the world was King Abdullah Port in Saudi Arabia.)
But Strang said traffic to East Coast ports was mitigated by delays moving through the Panama Canal, in addition to being numerous and distributed as opposed to concentrated in a few places. "Once you've hit a limit on a port, it now compounds and what you need, and what we never had in 2021, is a period where the cargo volumes go down," he said.
Article content
Martin Humphreys, lead transport economist for the World Bank and one of the authors of the ranking, declined to comment on any specific port, saying each location requires independent investigation. The goal of the report was to create an "indicator" that sheds light on the relative operational performance of ports and provide a reference point for "improvement," he said.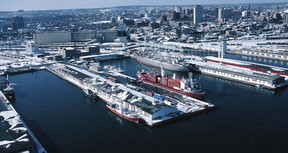 "We tried to come up with a method that has a hard evidential base of providing a robust indication of comparative performance," said Humphreys. "This hasn't been done before."
The report considers numerous variables, from the time a ship spends at various stages, the size of ships that dock at a particular port, and the size of the port itself. The report noted that a number of unseen factors, such as infrastructure quality and expertise of employees, contribute to overall efficiency.
Article content
In total, the report's authors examined 164,500 port calls involving 257.4 million container moves at 826 container terminals at 443 ports worldwide. (The authors left the smallest ports out of the final analysis, settling on a sample of 370.) The ranking tries to estimate the efficiency of a port and provides two rankings, one that is purely statistical and one that is administrative that tries to account for missing data.
Inflation brings scrutiny
The report notes that maritime transport carries more than 80 per cent of global merchandise trade by volume and an inefficient port will result in "slower economic growth, less employment, and higher costs for importers and exporters."
Port efficiency always affects the cost of importing and exporting to a country, said Humphreys, and depending on the wealth of the country, it can result in inflation or shortages of certain items. He estimated that in the richest countries it can cost as much $100,000 every day that a ship waits to berth at a port.
Article content
"Whether that's significant enough to contribute substantially to inflation, I wouldn't like to speculate at this particular point in time," said Humphreys.
'Unlike anything we've seen before': Coronavirus lockdowns strain critical supply-chains in Canada

CN Railway braces for surge in grain shipments as optimism grows for harvest

CP Rail revenue sags due to bad winter, lower grain shipments and labour dispute
Avery Shenfeld, chief economist at Canadian Imperial Bank of Commerce's CIBC World Markets, said port congestion has contributed to inflation, particularly earlier in the pandemic when consumer spending  shifted away from services such as gyms and movies to durable goods such as exercise bikes and flatscreen televisions.
Article content
"At the height of the orgy of goods spending … those port lineups were a bigger part of the story," said Shenfeld. "More recently, the story on inflation has clearly broadened out to wages to service prices to really an across-the-board issue."
Still, there is little doubt that the images of ships lined up outside West Coast ports, shortages of some products and subsequent price inflation have had a cascade of consequences felt throughout the country.
Indeed, the federal government in its most recent budget allocated $450 million for its National Trade Corridors Fund to help ease the movement of goods throughout the country. Earlier this week,  transport minister Omar Alghabra travelled to Saint John, N.B. to announce $42 million in upgrades at two New Brunswick Southern Railway terminals and an expansion of Port Saint John, with contributions from J.D. Irving Ltd., the New Brunswick government, and the port authority.
The funding will allow for construction of new rails that can carry double-stacked containers and other improvements designed to increase efficiency of the port there.
"This is about nation building," Alghabra said in a video of the event.
• Email: [email protected] | Twitter: GabeFriedz