On June 18, police say a man gained access to a locker in the men's change room at the MNP Community and Sport Centre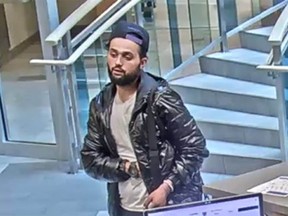 Article content
City police are asking for help to identify a man suspected of breaking into lockers in changing rooms across Calgary.
Article content
On June 18, police say a man gained access to a locker in the men's change room at the MNP Community and Sport Centre, at 2225 Macleod Trail S.E.
The man removed items from the locker before leaving the recreation centre, said police.
"The same suspect is believed to be involved in several other locker-room thefts dating back to the beginning of June at various recreation facilities, including YMCA, Mount Royal University and Fit4Less locations," police said in a news release.
The suspect is described as being about five feet 10 inches tall with a slim build, and with dark hair and dark facial hair.
He was seen wearing a white shirt, black pants, a black jacket and a black baseball cap.
Police say Calgarians should be vigilant when storing their belongings in public changing rooms and to report any suspicious activity.
Anyone with information on these thefts is asked to call Calgary police at 403-266-1234 or contact Crime Stoppers anonymously at 1-800-222-8477 or go to www.calgarycrimestoppers.org.