Six other schools were placed under Secure-the-Building protocol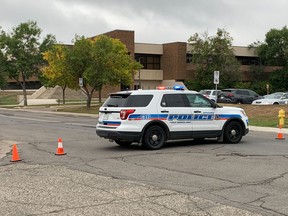 Article content
Regina police say a call about a gun inside F.W. Johnson Collegiate prompted a lockdown and an immediate police response on Friday morning, according to Deputy Chief Lorilee Davies.
Article content
"We received a call at about 9:15 of a firearm in the school. Our officers immediately responded and a lockdown was immediately enacted," Davies said in a video posted to social media just before the noon hour.
Article content
"We have no information that any shots were fired and there were no injuries reported to us," Davies added.
One person in custody and everyone safe, she added. Investigation is ongoing. Davies said information about charges will be provided later. She added RPS is working with the school board and schools to lift the lockdown and secure-the-building protocol at six other schools.
Shortly after 11:30 a.m., an officer on the scene said everyone was safe, referring media questions to RPS communications. In the same area, police were seen taking a couple people into custody at a house, which also had a heavy police presence.
Article content
Regina Public Schools spokesperson Terry Lazarou said a situation began unfolding just before 9:30 a.m. Parents of students at the school had been notified of the incident through an emergency broadcast, Edsby, he added.
At 10:07 a.m., police issued a statement saying, "The school is currently in lockdown. Everyone is asked to avoid the area."
Lockdowns are enacted when there is believed to be a threat in or to a building, resulting in the people inside the school secured in a designated and locked area, with regular activities stopped.
Onlookers were spotted weeping and embracing. One parent watching from the perimeter said his daughter, who's in Grade 10, is in the school and had been asking through text message what is going on.
Article content
"She says that 'we're ok. We're just in a classroom, in a corner with the doors locked and barricaded,'" parent Brad Rapp said.
Rapp, who had been on scene for about 15 minutes when he spoke with the Leader-Post, described feeling very anxious for the well-being of his daughter, other students and staff. Rapp said his daughter initially texted her mother about the situation, that there was something going on.
"Then she texted like 'if something happens, I love you' kind of text," Rapp, a former student of F.W. Johnson Collegiate, said.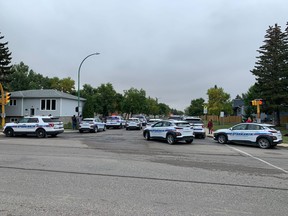 Around the school, more than a dozen police vehicles were on scene this morning.
Six other schools, Henry Braun School, St. Theresa School, Judge Bryant Elementary School, Dr. George Ferguson Elementary School, St. Catherine Community School and Glen Elm Community School, were placed in Secure-the-Building mode.
Article content
Secure-the-Building protocol is enacted when there is a possible threat outside the building, so all of a school's outside doors are locked and monitored by school staff until the protocol has been lifted.
— with files from Brandon Harder and Creeden Martell
Check back for updates …. 
The news seems to be flying at us faster all the time. From COVID-19 updates to politics and crime and everything in between, it can be hard to keep up. With that in mind, the Regina Leader-Post has created an Afternoon Headlines newsletter that can be delivered daily to your inbox to help make sure you are up to date with the most vital news of the day. Click here to subscribe.