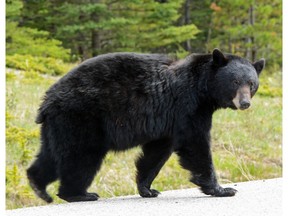 Article content
Ottawa Police say they are monitoring the area around Teron Road and Best Way in Kanata after a bear was spotted there.
Article content
"Police are in the area and residents are asked to be cautious if a bear is encountered," said a statement from police.
Article content
Residents can call Ottawa Police at 613-236-1222 or 911 if a bear is endangering safety.
Black bears are found in forested areas across Ontario. They usually avoid people, but are attracted by food and more likely to approach people when food is scarce.
Attacks by bears are rare. You are more likely to be hit by lightning, says the National Capital Commission.
In the Gatineau Park, one of the region's most popular hiking destinations, there have been no incidents of people being attacked by bears in the last 10 to 15 years, according to Maryam El-Akhrass, a spokesperson for the NCC.
However, last year there were two instances in Gatineau Park in which black bears intimidated visitors by false charging or stomping, she said.
Article content
With many people planning a hike in the woods this Thanksgiving weekend, here are a few safety tips about how to avoid bears and what to do if you encounter one, courtesy of the National Capital Commission and the government of Ontario:
Make some noise: Bears don't like surprises. So if you are out in the forest, sing, whistle or talk if you are in an area with restricted visibility or that has a lot of background noise such as wind or waterfalls. Travel in groups.
Keep your dog on a leash: If you are in the countryside where there may be bears, don't let your dog roam free. A bear responding to a dog may make a defensive attack on people, or a dog being chased by a bear can lead the animal back to the owner.
Never approach a bear: "At all times, you must give the bear the opportunity to flee," says the NCC. Never get between a mother bear and her cubs. Don't attract a bear with the smell of food. And leave the area if you see signs that a bear is around, such as droppings, torn up logs and overturned rocks.
Article content
Know the signs of bear anger: Black bears sometimes stand up on their hind legs and sniff, but that is not a sign of aggression, even if they are growling a bit. They are just trying to see and smell better.
There are warning signs that a bear "does not want you in its territory," in the words of the NCC. Watch out if a bear is: chattering its teeth, making loud blowing, huffing, moaning, clacking and popping sounds, salivating excessively, lowering its head with its ears drawn back, charging forward or swatting the ground with its paws in a "bluff" charge or hitting objects with its paws.
If a bear attacks: Don't run or climb a tree. Don't kneel down or make direct eye contact. And  don't play dead – unless you are sure it's a mother bear protecting its cubs.
Fight back. "Struggle, yell, hit the bear with a rock, stick or paddle," says the NCC. "Fight back with everything you have," advises the Ontario government tip sheet. That increases the chance the bear will leave.
Obvious but worth repeating: Don't approach a bear to get a better look or a photograph. Don't feed bears.
CHEO unveils plan to reduce wait time amidst 'unprecedented pressure'

Deachman: Brooke Henderson and the power of role models