Quebec's police watchdog is investigating the incident.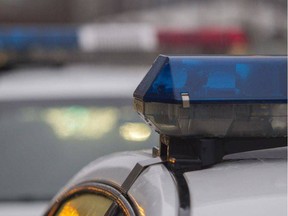 Article content
A Montreal police officer suffered a gunshot wound to the leg late Wednesday during a pursuit through the city's downtown that also saw the suspect hit by at least one bullet.
Article content
By early Thursday morning the lives of both men were deemed to be out of danger and the incident is now being examined by the BEI, Quebec's independent police watchdog.
According to Montreal police the operation was triggered by a 911 call at about 11:45 p.m. reporting a man armed with a pistol seen on Ste. Catherine St. near St. Mathieu St.
Officers arriving at the scene began to chase the suspect, who, according to the BEI, fired at police, striking one officer in the leg.
After briefly losing sight of the suspect police caught up with him on René-Lévesque Blvd. near Hope Ave. The suspect was found to be wounded in the leg, apparently by gunfire, although police say they did not fire the shot. A pistol was found near the scene of the suspect's arrest.
A large crime scene was established around the area where the pursuit occurred and a mobile command post deployed at the site.
Psychological aid is being offered to those officers who require it.
The BEI has assigned six investigators to examine the incident and a parallel investigation is being conducted by the Sûreté du Québec.