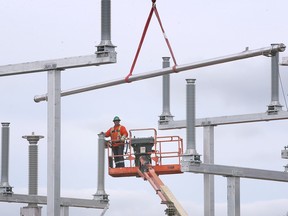 Article content
As the Liberal government faced fire Monday over concerns Windsor's Next Star Energy plant will fill its ranks with foreign workers — including calls for an inquiry form Conservative leader Pierre Poilievre — project leaders said non-Canadian workers will be temporary.
NexStar Energy CEO Danies Lee told the Star workers are coming in temporarily from Japan and South Korea to set up specialized machinery, but they will still need support from local hires.
Article content
And once the plant is ready, Lee said the company will permanently hire about 2,500 Canadians.
"Those people from the suppliers, they are coming over to take the lead on the installation of the equipment," said Lee. "Obviously, they need support from the local people, who are carrying out those installation jobs, as well."
After MP Brian Masse (NDP —Windsor West) and a few Conservatives penned a letter Nov. 17 to the Standing Committee on Industry and Technology about their "deeply troubling concerns," Poilivere on Monday called for an inquiry.
Poilievere said he wants answers about "how many of these taxpayer funded jobs are going to temporary foreign workers." He also called for the terms of the agreement  — the federal and provincial governments are providing up to $15 billion in incentives —  to be made public.
"Now we learn that the $15 billion grant to the Stellantis plant will fund jobs for mostly non-Canadians," said Poilievre. "Not immigrants. We love jobs for immigrants. Jobs for people who are not Canadian citizens and will not be Canadian citizens. They will come here, get a taxpayer funded paycheque and take it back to their country. I love South Korea. Wonderful country. But they don't fund jobs for Canadians, and we shouldn't fund jobs for their workers. Our money should fund our paycheques. Bring it home."
Article content
Masse told the Star on Monday if no one here was qualified to do the build-up work, they could have been trained.
"I don't believe that we are short workers," said Masse, who raised the issue Monday during Question Period. "But even if we are short workers, in a year-and-a-half, we could have trained people. We've done that all the time in Windsor. I don't buy the argument to begin with. But if they're going to rest on that, then what were you doing for the last year-and-a-half, instead of actually training the workers?
"It's not that complicated. We've been doing this all our lives. Tool and die, mould making industry, everything."
The letter he co-signed notes some initial job postings at the battery plant received a Labour Market Impact Assessment, which is required when a company in Canada wants to hire foreign workers.
"The undersigned members of the committee are calling for an emergency meeting in order to appropriately address these deeply disturbing revelations and to ensure that jobs at the Stellantis-LG battery manufacturing plant in Windsor is filled by Canadian workers," the letter states.
Article content

The Star reported in August that the company planned to temporarily bring roughly 1,500 specialized foreign workers into Windsor, the majority to set up the plant and its machinery.
Automate Canada Chair Dave Fortin said it's not uncommon for companies that build machines to send their staff to set it up, wherever that is.
"There are no local companies, probably no North American companies at all, that are building any of the machinery inside that plant," he said.
Many companies will likely send workers to the Windsor plant to set up the machinery they built, he said.
"Each of those has their own workers that they have to send to run off their machines," he said. "It's not NextStar asking them. It's those guys saying 'We made the machine, we need to make sure it works, we're going to send 20 guys or 50 guys for three months or six months to make sure my machine is up and running.' Then they'll leave."
Fortin said there are also usually warranty requirements stating the companies that built the machines must set them up.
Canadian companies do it all the time, he said, including those based in Windsor.
Article content
"It's not any different than something Canadian companies would do," said Fortin. "If a company like CenterLine, for example, makes a whole welding line and they ship the welding line to Mexico or Arizona, they're going to send a bunch of their guys down to get that machine up and running. Then they're going to leave."
"Anybody that makes a pretty large piece of machinery would absolutely send people there to support it. That's totally common sense."
Lee said the people coming into set up the plant will not be staying here when that work is finished. He also repeated a previous commitment Monday to hire about 2,500 people from the region once the plant is ready to go.
"Hopefully in the Windsor area," he said. "But if not, the Ontario area. It depends on the availability of the people."