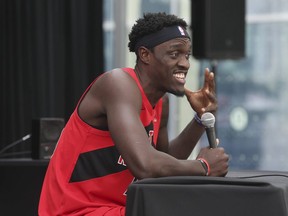 Article content
Officially the plan hasn't changed.
Article content
The Raptors remain, according to no less an authority than vice chairman and president of basketball operations Masai Ujiri himself, patiently growing a team back to championship contender status.
Article content
Ujiri is the voice of reason, the adult in the room well aware that all those strides Scottie Barnes made a year ago, while stunningly good and probably ahead of schedule for a player so young, don't necessarily mean that the growing pains are over.
Article content
When asked about Barnes specifically, Ujiri pointed to the Boston Celtics and the few years both Jayson Tatum and Jaylen Brown needed before they had the games and experience under their belts to take the Celtics to last year's NBA Final.
Tatum and Brown were both in their sixth years when they became the type of players capable of leading their team to a championship level.
Article content
The last thing Ujiri, or the head of any organization, would want to do is put any more pressure on a guy projected to become the face of this franchise.
So, there was plenty of talk about patience as the Raptors officially kicked off the 2022-23 campaign with their annual media day.
But then there's the other side of the equation with young veterans like Pascal Siakam and Fred VanVleet looking around and seeing the talent around them, talent that has had another solid off-season of improvement and talent that returns mostly intact from a year ago with only minor changes to the makeup.
Oh, and unlike a year ago that talent begins the year healthy.
No one is coming out and saying this is a team that can contend for a championship right now, but the players themselves aren't exactly pumping the brakes when talk turns to how good this team can be.
Article content
Head coach Nick Nurse can tell you exactly how much further ahead this team is already this year than it was this time a year ago.
"Sitting up here a year ago today, we didn't have any idea who we were identity-wide and how things were going to unfold and that's how things worked out," he said. "In the first four to six weeks I wasn't sure we were going to be able to defend or comprehend the way we wanted to defend.
"And then all of a sudden – I think it was around December – we started seeing the hard play and schemes get executed,' Nurse continued. "For the most part, we played really good basketball after we kind of clicked into that mentality so this year we know who we are a little more."
Again, Nurse isn't suggesting the league start considering another NBA Final outside their borders just yet, but just that step alone is huge in the short span of a year.
Article content
Now consider the various levels of individual improvement you've already heard about from those runs at UCLA under the watchful eye of new Raptors' assistant Rico Hines to the even earlier boasts of Scottie Barnes improved shooting and suddenly that 46 ½ win total Vegas is predicting starts to sound low.
Nurse doesn't come right out and say it, but he's sensing a little higher level of expectation from within his room.
"I just kind of sense a little urgency, I sense some togetherness and I sense some real intensity this summer, and I think those are all three really good words going into a training camp," he said.
Another reason the timeline might in fact be a little more sped up than even Ujiri is ready to consider at this point is the status of current go-to Raptor Pascal Siakam.
Article content
The No. 1 option in the offence put together an All-NBA-worthy season a year ago after missing all of training camp and most of the off-season recuperating from off-season surgery.
This time around he's fully healthy and coming off one of his Pascal-like summers that were the norm before COVID entered the picture.
Siakam was front and centre in all those videos and highlight packages coming out of UCLA this summer and is excited about that for himself but more so for his team.
"I think we have the pieces," Siakam said when asked about the lack of moves made this off-season that basically extended to bringing in Otto Porter Jr. and Juancho Hernangomez and re-signing Chris Boucher and Thad Young.
"We have the talent. We added some good pieces like Otto and Juancho and we have different things. We wanted to add shooting, we added that. We added (rookie) Christian Koloko (via the draft) and obviously, he has a lot to learn but we just continue to evolve as a team."
Article content
Beyond that Siakam has seen first-hand the strides his teammates have made and he's not afraid to boast about them.
"I think everyone individually got better, from O.G. (Anunoby), to Scottie, to Dalano (Banton), everybody is working on their game and continuing to get better and we get better as a team, also.
"Last year, people didn't really expect much from us, but we fought hard, and we got better as a team, got to experience the playoffs and that's something a lot of our young players didn't have," Siakam said. "I think we have a bright future as a team and we just have to continue to focus on ourselves and go out there and keep working, be that team that goes out there every single night playing to win."
Again, it's Ujiri's job to temper the expectations, but even he can't help but be excited about what he has been seeing. It kind of slipped out when he was asked about his favourite part of the off-season.
"Watching these players over the summer and just seeing their eyes and how they like to compete and seeing everyone back in the gym together, just seeing the organization grow is important for me," he said.
That growth might be coming even a little quicker than Ujiri is willing to admit at this point.