"This application has to do with Ottawa opening their arms to people in need."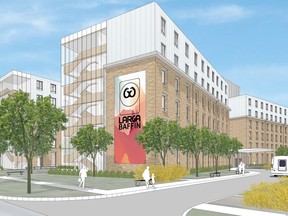 Article content
Larga Baffin has secured the backing of planning committee for its proposal to build a six-storey supportive boarding residence in the Upper Hunt Club area for Inuit who've travelled from Nunavut to Ottawa for medical care.
Article content
Committee members weren't convinced by the dozen-odd area residents who shared concerns Thursday about the development's potential impacts on their community, from congestion and cut-through traffic to incongruence with neighbouring low-rise residences, and requested that the committee withhold approval at this time.
"This application has to do with Ottawa opening their arms to people in need," said Alta Vista Ward Coun. Jean Cloutier, who noted many of the clients in the 350-bed residence will be shuttled to medical appointments at CHEO and The Ottawa Hospital through his community.
Larga Baffin is an Inuit-owned company that operates a smaller medical boarding facility on Richmond Road. It finalized its application for official plan and zoning bylaw amendments for the new project last fall and quickly encountered opposition. Some neighbours raised concerns about increased traffic, noise, pollution and community safety and started a petition in protest.
Article content
In January, Larga Baffin agreed to a temporary pause on its application, but reactivated it in March. Project team member Jacob Bolduc of Fotenn Planning + Design told planning committee Thursday the pause had been a request by the area councillor, Gloucester–Southgate's Diane Deans, to allow time for her and city staff "to work through some of the perceived issues they and the public had identified."
Deans, who does not sit on planning committee, told her voting colleagues she was sympathetic to the proposed use for the Hunt Club Road property was very happy to be welcoming to Nunavut residents travelling south for medical care, but also thought legitimate land-use planning concerns shouldn't be diminished.
Article content
"Whether it be an application for Larga Baffin or a high-rise development in Kitchissippi Ward, it's critical that we allow residents to voice their legitimate planning concerns and not pass judgement or assume they have ulterior motives," Deans said.
Deans brought forward a motion to defer approval of the application to allow for a city-led land use planning exercise, which failed, and was also unable to convince committee to maintain the existing height limit at the back portion of the property, which faces the Upper Hunt Club neighbourhood. Staff said this latter motion would require a "substantive change to the proposal" and felt the transition to surrounding low-rise residential communities was adequate.
Article content
Committee did, however, pass several motions from Deans to address traffic concerns and a specific height issue related to the project.
Some 350 comments were collected during the review of this development application, staff said, with 100 supportive and 250 opposed.
Staff recommended that committee support giving Larga Baffin the development permissions it sought, which would also allow for future residential development of up to four storeys facing Sieveright Avenue on the site's southern portion, in addition to the proposed residential care facility.
It's a use that better aligns with the surrounding residential community, staff said, compared to the outdoor storage warehouse and car sales and service garage currently on the "underdeveloped" site.
Article content
The bulk of the critique by public delegates Thursday related to the proposed building and concern over traffic impacts, plus perceived procedural shortcomings and disagreement with the work of staff on the development application. An area resident also shared her view that concerns related to health and safety and the need for nearby social supports had yet to be addressed by staff and councillors.
A different perspective was offered by Janine Flood, a ward resident who works for the federal Crown-Indigenous relations department. She highlighted the "very traumatic shadow" that past experiences of being brought south for medical care had cast over Inuit and positioned Larga Baffin's proposed facility and the services it's to include, such as translation and transport, as "the end of a long-term cycle of trauma for Inuit that we can all be a part of by actively supporting this proposal."
For Coun. Jeff Leiper, it was a "very worthwhile use," on a site that's close the airport and already permitted to host a range of high-traffic uses, such as a community health centre, car dealership or grocery store. Planning Services director Derrick Moodie said the expected traffic impact would be minor.
All 10 committee members present for the vote supported the application. It's to go to council on July 6.