A Saskatchewan Party MLA's stupefying decision to invite murderer Colin Thatcher to the throne speech eclipsed the government's message.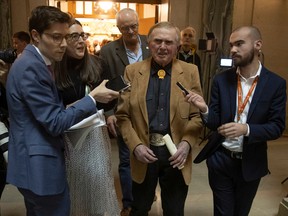 Article content
Premier Scott Moe and his Saskatchewan Party government seem to desperately want Canada to take the province seriously.
Article content
But efforts to send a coherent message to the federal government and other provinces pale in comparison to the apparent determination to ensure nobody hears Saskatchewan's voice.
Article content
This month has proved particularly detrimental in that regard.
First, the province released a "white paper" intended to outline legitimate concerns with federal climate policies that was widely mocked for its ridiculous calculations and even its poor writing.
Then, as you may have heard, a government MLA made the unfathomable decision to invite infamous ex-wife killer and former conservative Saskatchewan politician Colin Thatcher to Wednesday's Throne Speech.
Regardless of the message Saskatchewan's 15-year-old government wanted to send, the rest of Canada was retrieving its collective jaw off the ground at such stupefying judgment.
Article content
If the goal of Moe and his government was to spark a nationwide discussion about the province, mission accomplished. But the discussion is probably focused on getting the province some help, maybe some counselling.
Lumsden-Morse MLA Lyle Stewart, a former cabinet minister, acknowledged he invited Thatcher, a former Progressive Conservative MLA and cabinet minister.
Thatcher was convicted in 1984 of the brutal murder the previous year of his ex-wife JoAnn Wilson. It ranks as one of Canada's most infamous murders. A movie was made about it.
Stewart defended the invitation on Wednesday, telling The Canadian Press that Thatcher is a "fine individual" and "If anyone has a right to be here, it's Colin Thatcher."
Article content
A day later, Stewart issued a statement calling the invitation an "error in judgment" and a "distraction," but not apologizing.
As offensive as Thatcher's presence was in the legislature of a province with one of Canada's highest rates of intimate partner violence, it also severely undermined a key government message — getting tough on crime.
It almost works as satire if you like exceedingly black comedy.
Further, Thatcher's right to attend the throne speech was defended by Policing and Corrections Minister Christine Tell. Yes, as a man on parole, though still serving a life sentence for murder, he certainly can attend.
The issue Tell seemed to miss is that he was invited by a member of her government.
Moe on Thursday called the invitation unfortunate, but declined to apologize.
Article content
Yet the incident suggests a bigger problem. Did Stewart really not know that inviting one of Canada's most infamous killers would create a distraction?
Was nobody else in the government aware of the invitation beforehand (which seems highly unlikely)?
The apparent blindness of the government suggests astonishing insensitivity, abject incompetence or both.
Stewart served as Thatcher's executive assistant when the latter represented the constituency of Thunder Creek for the Progressive Conservatives from 1978 to 1984.
Stewart would later win Thunder Creek for the Saskatchewan Party in 1999. Thunder Creek morphed into the current Lumsden-Morse seat, which was won by Stewart with more than 70 per cent of the vote in the last two elections.
Article content
MLA Nadine Wilson was booted from the government caucus last year for misrepresenting her vaccine status. But it appears Stewart will be allowed to remain, despite a colossal error in judgment on a day in which his government has invested a lot of time and effort.
Thatcher casts a long, dark shadow in Saskatchewan that completely eclipsed any message the province wanted to send.
And there was a lot in the throne speech that deserved attention.
The government pledged to introduce a "Saskatchewan First Act" — suggesting a further descent into Donald Trump-style grievance-based politics — and to form a team of marshals to beef up policing.
The pending sale of remaining government-owned liquor stores was also announced on Wednesday, but fewer were focusing on that because of the Thatcher circus.
Article content
Perhaps that was the method to this madness? Nobody will be answering that question by saying this government is too competent and compassionate for such a crass tactic.
Phil Tank is the digital opinion editor at the Saskatoon StarPhoenix.
Phil Tank: Sask. climate costs of $111 billion a wildly misleading sum

Phil Tank: Saskatchewan lays out welcome mat for latest COVID-19 wave
Want to know how we decide what to cover and how editorial decisions are made at the Saskatoon StarPhoenix and Regina Leader-Post? Get the weekly Letter From the Editor newsletter from the Editor in Chief Russell Wangersky and join the discussion on what goes into covering news and delivering commentary, both in print and online. Click here to subscribe.