Saskatoon city hall has been debating a user fee for trash collection based on how much you're sending to the landfill for decades.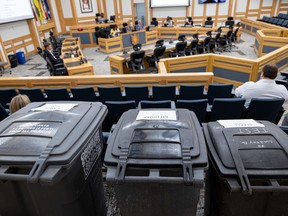 Article content
Saskatoon city hall once pondered following the approach to trash collection used in the nearby community of Humboldt.
Article content
Under this proposal, pitched by city hall for consideration 24 years ago, according to a StarPhoenix article, people in Humboldt paid $1 for every bag of garbage they produced. The strategy reduced the amount of trash sent to the Humboldt landfill by 60 per cent, the April 1998 article said.
Article content
Back then, the shelf life of Saskatoon's landfill was estimated at 10 to 15 years with a replacement cost of about $20 million, so the city started consultations on the move.
Richard Prankev, then the city's manager of solid waste, issued a warning: "It would be too late to consider waste management 10 or 20 years from now when we are in a crisis."
That proposal went nowhere. More than 20 years later, Saskatoon city hall continues to grapple with how to collect trash and how to pay for it.
Article content
The epic struggle continues on Monday, when city council votes on a model similar in theme to the Humboldt one proposed 24 years ago.
This time, council will decide on whether to move forward with three different garbage cart sizes, which is expected to cost $4.8 million, for single-family homes.
The larger the bin, the more households will pay, kind of like the $1 per trash bag idea from a quarter century ago. The intent is the same: to nudge folks to do a better job at reducing the amount of material they send to the landfill.
But the idea of a $1 charge — $1.67 in today's currency — is as much a dream as you think it is.
People are not expected to know what each bin will cost until next spring, according to information shared at a city council committee meeting this month.
Article content
The big change coming is that trash collection will be moved from being funded through property tax to user fees. Paying directly for garbage pickup is supposed to make people more aware of the cost of sending material to the dump.
If you don't like that strategy, you're about a year too late. Council approved the move last fall to start paying for trash collection with user fees. (If you're confused, it might be because of a 2018 switcheroo on the decision, courtesy of a reversal by Coun. Darren Hill.)
A replacement landfill will no longer cost $20 million — that price tag has jumped to $126 million, as of an estimate from two years ago. Finding a location for a dump has also become much more difficult.
One variable that has not changed over the years is Saskatoon's abysmal record of diverting material from the landfill. The city's diversion rate sits at about half that of the national rate of about 45 per cent, the committee meeting heard.
Article content
That suggests some sort of change is needed. City hall, by the way, has set a diversion rate goal of 70 per cent by next year.
As of 2019, more than two-thirds of the material sent to the landfill could have been diverted; 10 per cent was stuff that could have been recycled; 58 per cent was organic material.
That's why the city plans to introduce a curb-side organic waste collection program next year — so people can easily choose to reduce the strain on the landfill. And there's always the recycling program residents have been funding for years, but never completely embracing.
Key holes in the new organics program include the absence of townhouses and apartments, and the commercial/industry sectors, but those are supposed to be coming.
Article content
Since only single-family homes will receive the cart options (180 litres, 240 l and 260 l for the option that got committee approval) and organics collection, the funding breakdown will be interesting.
Most cities have moved in this direction, according to city hall's research, but it's still a controversial move in a city that has ignored the consequences of its wastefulness for far too long.
Phil Tank is the digital opinion editor at the Saskatoon StarPhoenix.
Tank: Deja vu as Saskatoon city hall shifts back to trash pickup fees

Tank: Saskatoon's next goal (seriously) is 'zero waste'
Want to know how we decide what to cover and how editorial decisions are made at the Saskatoon StarPhoenix and Regina Leader-Post? Get the weekly Letter From the Editor newsletter from the Editor in Chief Russell Wangersky and join the discussion on what goes into covering news and delivering commentary, both in print and online. Click here to subscribe.