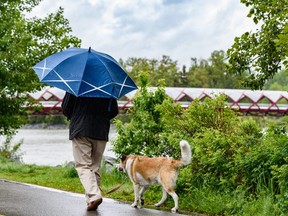 Article content
A heart-stopping video clip from the recent Florida storm coverage showed an elderly man gingerly climbing into a helicopter basket to be evacuated from his flooded home. He wasn't clutching family photos or his laptop computer. He had his obviously beloved cat in a carrier. I'm pretty sure they both made it to safety, but my heart goes out to the people, and the pets, who didn't survive the recent storm disasters in the U.S. and Atlantic Canada.
Article content
Our devotion to our pets is rooted in a deep and complex relationship. They may even help keep us sane. That's certainly the view of esteemed Oxford psychologist Richard D. Ryder. In a 1973 essay called "Pets in man's search for sanity," he argued that the things that cause people the most mental distress are deprivation and frustration.
Article content
He wrote that "The remarkable thing about pets is that, in general, they do not deprive and do not frustrate. If we give them half a chance they give us abundant love and almost total freedom." He explained that pets keep us happy by expressing their love to us. "I am sure we can benefit psychologically by loving a pet; but it is when they make us feel loved that they really help us. This is probably their greatest psychotherapeutic function."
Article content
Ryder defended our tendency to ascribe human traits to our pets, writing "If anthropomorphism means that I have noted some similarities between the human animal and the other animals, then I see nothing wrong in that." Ryder coined the term "speciesism" to call out "the arrogant fantasy that mankind is entirely different from the other species."
Interacting with a pet is known to reduce levels of stress hormones and increase levels of the feel-good hormone oxytocin. Animals can ease loneliness and depression, provide an urgent good reason to get out of bed in the morning, and even lower heart rate and blood pressure.
A study from the State University of New York in Buffalo looked at 240 married couples, half of whom owned a pet. They were subjected to mild stresses like doing mental arithmetic and immersing a hand in ice water for two minutes.
Article content
Their results showed that "people with pets had significantly lower heart rate and blood pressure levels during a resting baseline, significantly smaller increases (i.e. reactivity) from baseline levels during the mental arithmetic and cold pressor, and faster recovery."  Among pet owners, the lowest reactivity and quickest recovery times were seen when their pet was present. It didn't seem to matter if the pet was a dog or a cat – the benefits were still there.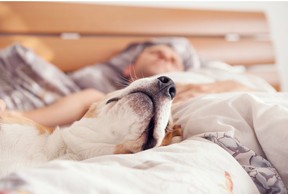 Looking for male-specific aspects of pet ownership led me to an online resource I hadn't seen before. It's a Calgary-based website called Men& (www.menand.ca). Their mission includes "connecting men with the information, tools and support they need to heal their pain and cause less harm to themselves and others." They are affiliated with the Calgary Women's Emergency Shelter and receive support from the Calgary Foundation and other agencies.
Article content
Their site is well worth a visit. On it, I found an article called "The Many Emotional Benefits of Pet Ownership." In addition to the physiological benefits, they cite studies that pet owners tend to have better self-esteem, be more physically fit, more empathetic and less preoccupied. In addition, pet owners often benefit from social connection with other pet owners.
Despite Richard Ryder's observation that we are a lot like other animals, the Men& site does highlight a big difference between humans and animals. "Pets are completely absorbed in the present moment and are unconcerned about what happened the day before. They are equally unconcerned about what may occur tomorrow."  In other words, they don't worry and usually don't hold grudges.
Article content
The Men& article notes how beneficial pets can be for kids, especially those with anxiety. They cite a Centers for Disease control study where "a screening test for anxiety found that 21 per cent of youngsters who did not have a pet dog were 'positive' but only 12 per cent of youngsters with dogs scored 'positive' for anxiety."
I'll add one more pet/human difference that is particularly relevant for children. Compared to humans, pets have a much shorter life span, so they teach us to cope with grief and mortality. Out of the blue, our son, who recently got the first pet of his adult life, mused that he felt a strong pang as he was bringing that beautiful dog home. "I realized I'll have to say goodbye to him someday."
Perhaps the most profound consequence is that our pets teach us to live every day to the fullest. Each morning, I tell our cat Max that "every day with him is precious" and he responds by tapping me on the nose. Of course, he'll scratch and bite me if I try to bring him inside while he's in the yard, dining on a freshly caught mouse. Pets are complex. Just like people.
Dr. Tom Keenan is an award-winning journalist, public speaker, professor in the School of Architecture, Planning and Landscape at the University of Calgary, and author of the best-selling book, Technocreep: The Surrender of Privacy and the Capitalization of Intimacy.