'This is the downside of affirmative action'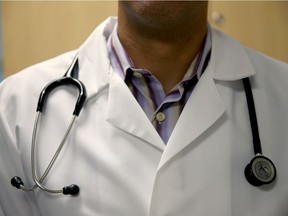 Article content
A University of Pennsylvania medical school professor emeritus is not making many friends with some controversial comments.
Article content
Dr. Stanley Goldfarb, 78, says new "anti-racism" med school policies are lowering standards, reducing students to the coulour of their skin and corrupting medicine in general, according to the New York Post.
Article content
"I understand we need to give people more opportunities," Goldfarb, a trained nephrologist, told the Post. "But there are some things you can't sacrifice. This focus on diversity means we're going to take someone with a certain skin color because we think they're OK, that they can do the work. But we're not going to look for the best and the brightest. We're going to look for people who are just OK to make sure we have the right mixture of ethnic groups in our medical schools."
The American Medical Association announced last year a three-year plan to encourage people of colour to enter the medical profession, "in order to help eliminate the disparities between white and minority patients."
Article content
Goldfarb told the Post the changes have meant that some high-performing white — and often Asian — students can't get into medical school because those slots are being given to black and Hispanic students who don't have to show such high grades or test scores, due to new methods.
"It's manyfold harder for a white medical student who has average grades to get accepted into medical school, maybe 30 or 40 times harder than a minority student with the same grades," Goldfarb said.
"This is the downside of affirmative action," Goldfarb said. "The brilliant black doctors of the future like a Ben Carson, who was considered one of the premier pediatric neurosurgeons in the world, may be looked at by someone who says, 'Hey, this person doesn't belong at Johns Hopkins — he's only here because they wanted more diversity in the neurosurgery department.'"
Article content
Goldfarb's response is Do No Harm, an organization he founded in 2022 that helps protect doctors, patients and health care itself from "discriminatory, divisive ideologies." In March, he doubled down with the new book "Take Two Aspirin and Call Me by My Pronouns: Why Turning Doctors into Social Justice Warriors Is Destroying American Medicine."
As a result of his remarks, he has been publicly censured by UPenn Medical School's chairman, Dr. Michael Parmacek. A minority advocacy group run by Dr. Ashley Denmark, a black female doctor, also started a petition earlier this year demanding Goldfarb's removal from the college, according to the Post.
A spokesman for UPenn's medical school told the Post that Goldfarb's opinions do not reflect the "core values" of the school.