Dr. Jean Marmoreo shows that, in some cases, the best care a health professional can provide to honour a patient's life is to end it on the patient's terms.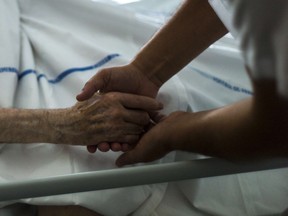 Article content
It implies we're casual with other people's humanity, and I object. For several reasons including that we're actually way more callous when people are alive than when they express a desire to die on their own terms. See the abysmal history of how we treat people in long-term care homes or those living on the Ontario Disability Support Program for the shameful details.
Article content
The subject comes up regularly, especially when we discuss our failure as a society to support people living with disabilities. Some of them may think that dying is the only way they can avoid feeling like a burden.
Let's make one thing very clear: It's not the legal availability of medical assistance in dying (MAiD) that makes people consider dying before they have to. It's our inability to care. We are world champions at making people who need support feel like financial black holes. Maybe we fix that instead of dissing MAiD?
Article content
The joint parliamentary committee on MAiD continues its work regarding advanced requests; mental illness as the sole underlying medical cause for a MAiD request; and whether to extend the procedure to mature minors. It was delayed by the federal election and is proceeding extraordinarily slowly. In the meantime, people in Canada continue to operate under the current legal framework. And medical doctors such as Jean Marmoreo continue to provide MAiD.
In a remarkable book coming out Sept. 27, Dr. Marmoreo (with co-author Johanna Schneller) chronicles years of providing MAiD to patients. Through individual stories of real people at the end of their lives, The Last Doctor shows that, in some cases, the best care a health professional can provide to honour a patient's life is to end it on the patient's terms.
Article content
You will learn many things reading that book, including that people who request MAiD aren't simply suicidal. "Generally people who request MAiD have thought it through from an intellectual and philosophical perspective," she explains. "Many have lived through someone else's difficult or painful death, and they've suffered, too. They know what they don't want."
Before it was legal, many of the people who now request MAiD would have considered suicide. Marmoreo said many of her patients told her they had thought about suicide, often seriously. They didn't do it because they were afraid of bungling it and waking up in a worse situation.
"For them, a medically assisted death — acknowledged, open, approved, and, most important, supported — becomes the final piece of their lifelong medical care, a rationally made and carefully vetted choice with a safe, painless, predictable outcome," she writes. "Done well, MAiD is an act of comfort and love."
Article content
We all want to live to the best of our abilities, by going boldly wherever it is we want to go. But what happens when we no longer can do that? And who decides what the line is between what we want and what we can do?
Should I one day be unable to be myself, would I consider MAiD? The honest answer is, I don't know. But I sure want the option. I don't want anyone else deciding for me what should matter to me. I trust most of you feel the same way.
Honouring a person's wish for death affirms their right to dignity and to decide what matters to them. "MAiD takes away someone's life," Dr. Marmoreo memorably says. "But first it gives it back to them."
The framework regulating MAiD in Canada, while not perfect, is carefully designed to protect people in vulnerable situations. The law is not written to nudge the unwilling into an early grave or make it too easy to choose death.
The Last Doctor is extremely well-written, touching, full of love and nuance. Some humour, too, because both life and death are full of it. It is a must-read for anyone who wishes to understand the issue better.
Brigitte Pellerin is an Ottawa author.