Murder scenes are always troubling but this one was a frenzy as family members of the slain man started to arrive.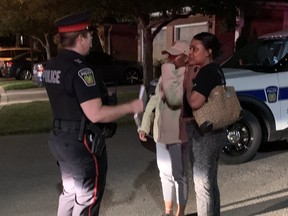 Article content
That was Peel Region's 18th homicide of 2022.
Article content
Don't look now, but the 18 homicides not even halfway through the calendar year are four more than what Peel had in 2021. The tally ties the 18 slayings in 2020.
If this keeps up, Peel is on target to set a homicide record in 2022. The current record of 31 was set in 2019.
When you look at those numbers, it shows pre-pandemic the region was at a high rate, homicides dropped significantly during the two lockdown years and now are on the rise again.
Peel is on pace for 36 homicides. If the current count is not already alarming enough, consider these numbers: Wednesday night's shooting in Mississauga was the fifth homicide in Peel in a week and the 12th shooting murder of the year.
Like Toronto, Peel has a shooting crisis. Things are out of control.
Article content
These shootings and slayings can happen anywhere. Just like Wednesday when a sleepy Mississauga neighbourhood became a homicide scene. In fact, the neighbourhood at Glen Erin Dr., just south of Britannia Rd., was awoken from sleep around 10 p.m. with the sound of gunshots.
Some said at first they thought it was fireworks, but they then remembered it's too early for Canada Day festivities. Then reality hit. As did the bullets.
Several witnesses said they heard at least a half dozen. Peel Regional Police and paramedics responded right away but it was too late to save the victim or catch the killer or killers.
"When they arrived on the scene, they found a man who had been victim of a gunshot," said Const. Heather Cannon. "He succumbed to his injuries."
Article content
This happened in a grassy area in between the fences of townhouses that are literally steps away with families. Needless to say, with dozens of emergency vehicles on scene, the normal slumber on a warm summer night was replaced with a nightmare.
Murder scenes are always troubling but this one was a frenzy as family members of the slain man started to arrive.
"My brother was shot," said a woman who arrived on the scene an hour after it happened. "Is he OK?"
Police had to break the terrible news and did so in a compassionate and caring way. The sensitivity displayed by Cannon, Insp. Derek Meeker and other officers on the scene was both impressive and needed because it's always difficult when family arrive where a loved one has been murdered.
Article content
It's happening far too often in Peel.
Article content
Moments after being updated, family members were seen consoling each other with hugs and tears. It's difficult to watch but important for the public to see because while we talk about homicide numbers, police are always reminding that behind these numbers are people.
Victims and loved ones.
The question now is who is behind this latest killing? Peel police's focus has shifted from dealing with a shocking scene to hunting down a killer or killers.
"We believe this is targeted," said Insp. Todd Leach, the senior officer in Peel's Homicide squad which now has carriage of this case. "A suspect was seen fleeing the scene shortly thereafter."
It certainly has been a busy time lately for his team. The four other Peel murders in the past week were June 17 when a woman was slain inside a home in Brampton, followed by the shooting of a man in his 30s June 18 at Mavis Rd. and Eglinton Ave. and a double shooting of two men at Gateway Blvd. and Queen St. in Brampton.
As we head into summer, if this trend continues, things may become busier for police.