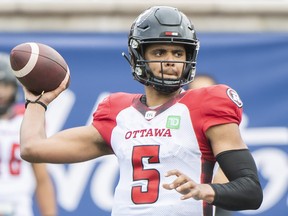 Article content
Caleb Evans is full of questions; he says he's surprised Jeremiah Masoli isn't "annoyed" with him.
Article content
While the Ottawa Redblacks are ready to wrap up training camp – with a pre-season game Friday in Montreal and their CFL regular-season opener the following Friday in Winnipeg – the 23-year-old Evans has been like a sponge, soaking up knowledge from Masoli, who's been in the league since 2013 and is going into his first with the Redblacks. Good thing there's plenty of that football wisdom to go around – the Redblacks also have two rookie QBs – Tyrie Adams and David Moore – who are also looking to learn.
Article content
After injuries to Matt Nichols and Dominique Davis in 2021, Evans got the starting quarterback job with the Redblacks mid-season. This year, the team is clearly in the hands of Masoli, the longtime Hamilton Tiger-Cat who was the East Division's Most Outstanding Player in 2018.
Article content
"I ask (Masoli) a lot of questions," said Evans. "He has a great football mind; he's helping me learn defences and offences better. As a young player, if you want to stay around, you have to learn. I'm just trying to be very observant, especially with Masoli. He has the same playing style as me – he can run and throw. I was picking up on some things he does on film – things like his quickness and his footwork. He stays in the pocket and he's very quick in his decision making. I ask him how he sees things."
Back in 2013, when Masoli was a rookie in Hamilton, he leaned on Henry Burris, the Tiger-Cats starting QB at the time. Now, he figures, it's his turn to give to the next generation of CFL quarterbacks.
"I've been in his position and I've had guys help me and guys not help me," said Masoli. "I want to help. I see (Evans) has a really bright mindset and wants to get better. Anybody that wants help and wants to get better, I'm all for it. It's a team game, you need every single person on the roster (to contribute).
Article content
"As quarterbacks coming into the CFL, we have to figure it out in our own way – how we play the game. Some (quarterbacks) like taking three steps for certain routes, some guys like taking five. He has to figure all that stuff out for himself. It all comes down to details. So when he's asking me that stuff, it's great. He wants to be engaged. He wants to be great. So I'm with that."
For Evans, it's a different mindset heading into his second season. With a late start to training camp a year ago and no pre-season games, he took over as the starting QB in Week 9 – late in September – when he threw three touchdown passes and rushed for 59 yards to help beat the Edmonton Elks 34-24. In eight games, he completed 108-of-182 passes (five of those for touchdowns) for 1,279 yards. He also threw nine interceptions and rushed for 345 yards. Several changes to the offensive line and a not-so-good receiving corps didn't help. But taking the bad with the good is all part of the learning process.
Article content
"In the off-season, I focused on things I feel I need to get better at," said Evans. "Being comfortable with the playbook, I want to learn that to a tee. I also switched some things on my footwork to get it a little quicker, a little faster."
RISING TO THE D: Defensive co-ordinator Mike Benevides said the competition for not only starting positions, but also roster spots, is coming down to the wire.
"We could have as many as five or six new pieces on defence," he said. "That's because of the young talent that's here. There are some young athletic players who are just discovering what they have. Some of them are straight out of college and they've never experienced a pro camp before. There's such a huge ceiling they're only now starting to get comfortable showing their skill sets. As they figure it out, they're playing fast and physical – and that's what you want. There are a lot of guys fighting for positions. At the end of (Friday's) game, you're going to make decisions based on all the information you have, but it's going to be tough."
Article content
THE END AROUND: The Redblacks have interest in receiver/returner Diontae Spencer, who spent the past three seasons with the NFL's Denver Broncos. Spencer, now 30, was with the Redblacks in the 2017 and 2018 seasons … While the Redblacks fielded a starting lineup featuring many veterans last week vs. Toronto, look for plenty of newcomers Friday in Montreal. It's an opportunity to show what they can do one last time before roster cutdowns Saturday. Said Redblacks general manager Shawn Burke: "This last game is a good opportunity to really evaluate. We wanted to play a lot of our best last week and this would be more of an evaluation game. The guys get their last opportunity to catch our eye and make the last little bit of decision making a little tougher for us." … WR Tevaun Smith, who was injured in practice last week, is heading for the injured list … RB William Powell still hasn't practised with the Redblacks. The team hopes to have him doing team drills by next week … The Redblacks started practice about half an hour late Wednesday … The Montreal Alouettes cancelled Wednesday's practice due to "multiple players having the flu." … The CFL is teaming up with Visaic, a content streaming platform, to deliver the 2022 season to more than 130 countries and territories. An all-access Pass ($99.99) provides access to 85 regular- and post-season games, including the Grey Cup. A regular-season pass is $79.99. A team pass is $29.99. Each game pass is $4.99.