There are common themes from what constituents want from the candidate who collects the most votes in the election on June 2.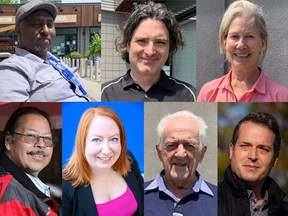 Article content
Affordable housing. Better health and senior care. Climate action.
Article content
If community members wrote mandate letters for their elected officials, these would be top priorities for Ottawa–Vanier's next member of provincial parliament.
This newspaper spoke with voters in the riding and some of its political and community leaders about what they'd like to see from the person who collects the most votes on June 2.
One priority raised again and again was action to make housing more affordable.
Fiona Williams thinks about her three daughters, who've gone through university, live on their own and are "all doing really well" — and, still, she wonders how they're ever going to be able to afford homes. To buy the same townhouse she and her husband purchased in the Rockcliffe-Manor Park area in 2015 would cost almost double.
Article content
For Sandra, a 61-year-old customer service worker who didn't feel comfortable giving her last name, it's the rising cost of rental housing that's creating anxiety.
"The pandemic did it for any of my savings … gone. So I'm like paycheque to paycheque right now, building back, but … you need that little bit of a cushion, and then you keep seeing rents going up and you think, 'Oh, my God, what's going to happen if I can't make it?'"
What she wants to see from her MPP is "recognition that it's a real problem."
Mohammed Awad shares a two-bedroom apartment with his wife and three kids, and says he's been on the wait list for social housing for seven years. It's something they've been trying to access, he explained, as a family with limited income — he receives Ontario Disability Support Program funding and his wife has been going to school and learning English.
Article content
Applicants for subsidized housing often face a years-long wait, but Awad has also been told that large, wheelchair-accessible units are particularly hard to come by.
Rideau–Rockcliffe Coun. Rawlson King says he believes the riding's MPP needs to advocate for greater investments in public housing, allowing for the provision of below-market rent and family-oriented units and helping the city tackle the 12,000-person waitlist for subsidized housing.
For Marc Maracle, executive director of the Gignul Non-Profit Housing Corporation — the largest Indigenous housing provider in Vanier — a good MPP is one that's "grounded and connected with their community." And his challenge, for any incoming MPP, is to know the agencies and people serving that community. "Because that's where your allies (are)."
Article content
ByWard Market BIA executive director Kalin McCluskey was looking for something similar from the community's next provincial representative: staying in touch with the business community throughout the riding — "there's lots of different business stories here. It's not a one-size-fits-all by any stretch" — and bringing those experiences to Queen's Park "for legislation that directly benefits our businesses."
At age 90, a major priority for Ottawa-Vanier constituent J.P. Monette is better access to health care. Seniors waiting half a day for emergency care is "BS," as Monette puts it. Once, he recalls, his wife's wait time at the Montfort Hospital was 11 hours. As for family doctors, Monette says he's been looking for one without success since he retired in December.
Article content
"Look after the elderly," is his ask to his MPP. "Give them more service. More than we have now."
Health care was also top of mind for voter Suzanne Labelle. Her dad contracted COVID-19 a year ago and she saw hospital staff burnout and shortages first-hand. But so, too, was child care. She's a grandmother, and her daughter "doesn't earn very much money. They're barely making it, she's got a second on the way, and that subsidy needs to happen," Labelle says, referencing the federal-provincial child care agreement currently rolling out.
An item on Rideau–Vanier Coun. Mathieu Fleury's post-election wish list is a community health and resource centre for the Vanier-Overbrook area. And, if the riding's MPP belongs to a party that doesn't form government, "it's advocating on our behalf."
Article content
At the Action Sandy Hill community association, President Susan Khazaeli said one expectation for the next MPP is resolution, "finally," of the inundation of downtown Ottawa streets by trucks travelling back and forth between Ontario-side highways and those in Quebec. 
ASH wants to know what actions the next MPP will take to remedy the situation — a tunnel, bridge, or something else — "and specifically their concrete plan in support of either option," Khazaeli says.
Climate change and racial inequity are two issues that constituent Mariah Whitney hopes her next MPP takes seriously. As a Black woman, Whitney says she experiences the downside of the latter issue almost daily. As for climate, "the storms last week for example, that kind of showed … We're going to start seeing a lot more of that, the damage, it's just going to keep getting worse … so that's stressful to me."
The recent storms and changing climate are also on the mind of resident Alex Lamoureux, whose ask for the next MPP is straightforward: electric-vehicle rebates. His hope for the government after June 2, he adds, is that it would "bring us into the future."