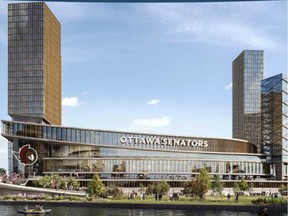 Article content
The path to downtown an arena has been cleared for the Ottawa Senators.
Article content
The National Capital Commission's board of directors were told by staff Thursday morning the Senators have won preferred bidder's status for a major events centre at LeBreton Flats and have already signed off on an agreement in principle.
The partnership includes Sterling Project Development, Popolous, Tipping Point Sports and Live Nation.
Article content
As this newspaper was first to report, it's believed that one of Eugene Melnyk's final acts before he passed away March 28 was to sign off on a bid at the Feb. 28 deadline to enter an expression of interest for a new rink at LeBreton Flats
It didn't work out the last time he partnered with Trinity's John Ruddy in 2015, but in this bid the Senators have strong backers for the arena.
Article content
Naturally, this is only the first step in what's going to be a long process to get a lease in place with the NCC by Jan. 23. As well, the organization will also have to deal with the political and financial hurdles that need to be cleared.
While the NCC stated in April it had "multiple" expressions of interest for a major events centre on the land located on the edge of downtown Ottawa, a bid from the Senators is the only one that made sense, with the NHL team to be the main tenant.
We believe Melnyk and his new group of backers dipped their toes into the water to see what the NCC's thought process was on this. If they hadn't then the door would be slammed shut. Melnyk noted to Postmedia in December he was "always interested" in an opportunity at LeBreton.
Article content
It was made clear during the public consultations by the NCC in 2019 that people wanted a downtown arena at LeBreton Flats.
Not only does this decision raise the value of the franchise if Melnyk's daughters, Anna and Olivia, the new owners of the team, decide they want to sell, it also helps to ensure the future of the franchise in this city.
Ottawa Mayor Jim Watson complimented the Senators for "sticking with" the process and "not giving up on this proposal."
Watson said NHL commissioner Gary Bettman has stressed to him several times that the Senators need to be downtown because "there's no walk up crowd in Kanata."
"It's a really great day for the city of Ottawa and people of Ottawa," said Watson. "I think we've got a winner here."
Twitter: @sungarrioch