"I was in the Soviet Union when it collapsed in December 1991. Walking on Wellington Street during the convoy occupation gave me flashbacks to that experience."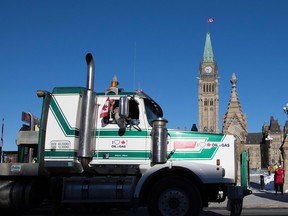 Article content
The second day of the city's public hearings into the convoy protest was dominated by people describing how they were harmed by the blockade of downtown streets last winter and frustrated by the failure of authorities to end it.
Article content
One woman said she was nearly run down by a truck with a Fu** Trudeau flag driving on the sidewalk, while others described being harassed for wearing masks and suffering both emotionally and physically from the horn honking, diesel fumes and chaos during the three-week protest.
Representatives from two social service organizations said services were disrupted and the city's most vulnerable people were hurt, including seniors and women at a shelter who were afraid to venture out.
Ottawa's auditor general, Nathalie Gougeon, is investigating how residents were affected by the "Freedom Convoy" and the city's response.
Besides two public hearings, residents can submit comments and fill out a survey.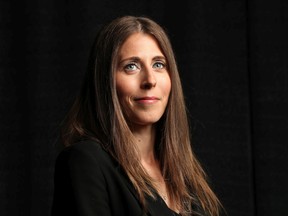 The written submissions will not be made public because they are provided "in confidence," a statement from the auditor general's office said. "Information will be aggregated and thematic issues may be referred to in our report."
Article content
Tuesday's hearing on Zoom was split between residents who opposed and supported the convoy, while most of the delegations for Wednesday's final session related negative experiences and expressed frustration that city officials and police failed to control the protest and protect residents.
Ottawa resident Flora Love, who said she received the mayor's city builder award in 2013, called the protest a "siege."
There was little city action to deter protesters from "engaging in public dangerous activities, irreverent behaviours, vile hate incitement, traumatic visual, verbal and physical aggressions…" Love said.
The threatening presence of drunk people and large groups partying was stressful, Love said, and she and her friends were harassed and sworn at for wearing masks while walking downtown.
Article content
"We were called "b—-" or (told), 'Take it off.' Rude names. Several of us had our masks actually ripped off. I was coming down Wellington Street and two guys lunged at me, attempting to punch me in the head. I had to turn away."
Love said the incessant air horns caused people she knew to experience "physical illness, headaches, nausea, stress, burning lung sensations, swollen and cankerous tongues."
Some residents were allergic to the rampant stench of marijuana smoke, and "several of us developed skin rashes from excessive stress," she said.
Andrea Chandler, who has lived and worked in Ottawa for 30 years, said she could not believe what she saw downtown.
"Trucks blocking every road … There were hateful flags and anti-Semitic signs. Honking. Diesel fumes. People were carrying fuel jugs, and there were piles of jerry cans in the street."
Article content
During one visit, Chandler said, "a bonfire was burning around Metcalfe and Slater, and a nearby parking lot reeked of urine. As I walked on the sidewalk, going south on Metcalfe, a truck with an F Trudeau sign climbed the curb and started driving on the sidewalk towards me. I stood my ground and the truck went back into the road.
"I was in the Soviet Union when it collapsed in December 1991. Walking on Wellington Street during the convoy occupation gave me flashbacks to that experience. There were uniformed people standing around, apparently doing nothing and not making eye contact. There was the smell of diesel, there were trucks lurking around with no apparent purpose."
Chandler said she no longer considered Ottawa a safe place to live and hoped to leave.
Article content
"To this day, I feel a sick feeling in my stomach when I see a black pickup truck, or even any truck, displaying a Canadian flag, the flag of the country where I was born and have lived most of my life, which I was proud to display on my backpack when I went overseas."
A spokesperson for Cornerstone Housing for Women, which operates a shelter downtown, said the occupation caused "collective trauma on all of our services and vulnerable people in our community."
"Residents and staff were afraid to go outside of the shelter, especially women of colour," Amber Bramer said.
Protesters arrived at the door of the shelter, "aggressively forcing us to take their donations when we respectfully declined in respect of the residents who were at the shelter who did not want to take these donations," she said. (In an interview, Bramer explained that protesters showed up with extra food and supplies like granola bars and Lysol wipes, plus money.)
Article content
"Protesters were harassing staff to take a spot at the shelter as well," she told the hearing.
The noise from the honking and trucks was "sheer torture" for some residents, who experienced ringing in their ears for months, she said.
"One woman admitted herself to the hospital because it was too much to bear."
Ottawa resident Roger Soloshy said he welcomed the protesters to the city and praised former police chief Peter Sloly for maintaining good relationships with them, rather than taking an adversarial approach.
On Wellington Street, the atmosphere was "cheerful, with displays of patriotism, flags and unity," said Solosky, who condemned the use of police to clear out protesters and trucks.
"This was a political crisis that needed a political solution, and it is disappointing that our elected officials chose to support the use of force under emergency powers instead."