"I want people to recognize that there are so many people who make the Mission a special place"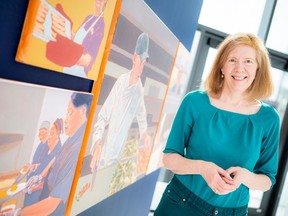 Article content
Ottawa artist Karen Bailey didn't have to look far to find the subjects for her latest project, Portraits of The Ottawa Mission — they are her neighbours.
Article content
"I've lived in the ByWard Market for 30 years," says Bailey. "I've seen a lot of people in need — the homeless, people battling alcohol and drug addiction, people laying on the street —  you see it all.
Article content
"I think people, like myself, pass them by and all we see is despair."
Bailey's wish is that people who come to see her new show at the Ottawa Art Gallery leave with a sense of hope.
"What I didn't realize was how much more there is to the Mission than just a plate of hot food and a bed for the night," she says. "Those are huge areas and very important, but The Mission has all these other services that you don't think about."
Originally trained in England in the art of calligraphy and heraldry, Bailey has spent more than three decades painting in Ottawa. Her work has concentrated on unrecognized and underrepresented workers, be they medical personnel with the Canadian army in Afghanistan, or the work horses at Cundell Stables in the ByWard Market. It was her friend "Big John", a worker at Cundell's who receives services at The Mission, that got her interested in her latest project.
Article content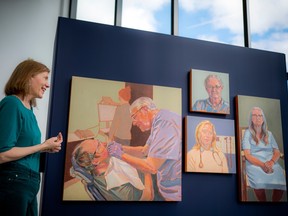 Bailey spent 14 months working on the 31 paintings in the show. The portraits cover everyone from CEO Peter Tilley to Dr. Jeffrey Turnbull and Wendy Muckle of Ottawa Inner City Health to board member Rev. Anthony Bailey to donors, benefactors and volunteers. There's also Chef Ric Allen-Watson and his kitchen team, counsellors, laundry workers and Mission clients like Luc, a former junior hockey player who now lives in supportive housing.
Some of Bailey's acrylic-on-canvas paintings depict services such as the Day/Hope counselling program, The Mission's clothing stores and bunk rooms and Dr. Tom Harle and his dental practice.
"You don't think about that — that someone on the street can get a toothache," Bailey said. "And then what are they going to do? Or maybe they're looking to see someone about housing. Or they want to improve their life by enrolling in Chef Ric's cooking program. It's open to anyone. All you need is the desire.
Article content
"I want people to recognize that there are so many people who make the Mission a special place. When I think of the Mission now, I realize it's a whole range of services and the hope that it's providing to its clients."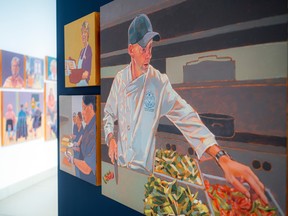 The project was done during the pandemic, which made the work more difficult. In some cases, her subjects came to Bailey's home to sit for portraits. COVID-19 outbreaks sometimes meant her access was restricted. One particularly haunting painting shows men lined up at a food truck on a frigid, snowy winter's day when the Mission was locked down.
The portraits create an intimacy that's different from what you'll see in a photograph.
"When you're painting a portrait you're looking at them right in the eye and asking them questions," Bailey said.
Article content
"When people have their portrait painted, they're putting their faith in your hands. People are used to having their photograph taken, but they're not used to seeing themselves on canvas. "
Portraits of The Ottawa Mission is on display in the Ottawa Art Gallery's third-floor Sky Lounge until Oct. 16. From the gallery's broad windows, you can look down across Waller Street and see the action outside the Mission's doors. The reverse is true, too. Bailey relates a story from one of her portrait subjects.
"It was in the evening and he was downstairs — the Mission is just across the street, of course. And he looked up and thought, 'Look at the paintings!' He knew that his portrait was up here."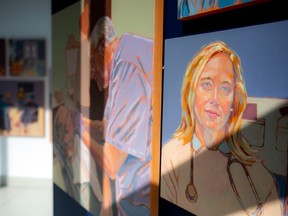 Inflation is driving Ottawa food bank use to record highs

Ottawa Mission food program in former Rideau Bakery launches first grads