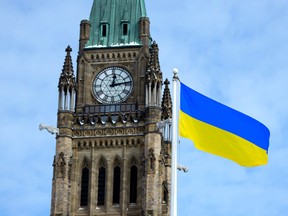 Article content
Throughout history, there have been moments in time when greatness emerged and changed the course of history. Canada is uniquely positioned today to be one of those historic changemakers and the need for Canadian leadership and diplomacy has never been greater.
Article content
For more than eight months, the world has watched a horrific and unjustified war between Ukraine and the much larger nation of Russia. It seems to be a war without a solution. A war of unbridled viciousness. If the Ukrainians fail, their citizens will be decimated; if the Russians retreat, their leader will have lost face or even his life and Russia will have become a pariah to the world. Neither nation can back down, yet somehow they must.
Article content
Both nations are steadfast in their positions. Millions have fled the war, either within their own country or scattered around the globe. Cities have been destroyed, thousands of homes ruined, a thriving industrial complex has been devastated and there does not seem to be any obvious solution.
Article content
Yet, a solution must be found. After all of these months, the bloodshed has to be stopped.  Surely the death toll and suffering both on the Ukrainian side and on the Russian side must be brought to an end, but as we all have observed that there is no referee, there is no dialogue and there is no negotiation for peace.
Canada, in its historic and traditional role as peacekeeper and conciliator, now has a chance to change the course of history. Around the world, Canada has a longstanding reputation for peace and as a defender of human rights. The concept of United Nations peacekeeping forces was a Canadian idea and today that role of negotiator and conciliator must be pressed into action. This is Canada's moment to shine and our elected leaders must seize the day and step up to do this task.
Article content
This war will soon turn catastrophic and the potential for conflict far beyond what we are seeing today or perhaps have ever seen grows with each passing hour. Canada may be the only country with the reputation and the trust of so many nations that we may in fact be the only country that actually can negotiate all of this to a peaceful and lasting conclusion.
The United States has alienated both sides in this conflict and the traditional western countries that might have done so are all entangled in a wide range of challenges from food and energy security to unstable governments that flip sides on a regular basis. Time is of the essence, and our prime minister and our elected leaders must stop the enraged rhetoric against Putin and, instead, become the arbitrators for peace.
Article content
There is no other nation on earth that can take on this challenge as successfully as Canada and because of that reputation, we are almost compelled to take the lead in drawing this conflict to a close. Without Canadian intervention, this war has a possibility of taking the entire world economy into a tailspin or even worse and the potential for loss of human life, destruction of hundreds of years of infrastructure and a breakdown of modern civilization is not that far over the horizon.
Canada asked for a seat on the United Nations Security Council. We did not get that privilege, but that does not mean that we should not take the actions necessary to change the course of history. This could and should be our next moment of greatness as a nation. The opportunity is right there for us to seize.
Mike Shaikh is a former chair of the Calgary police commission, honorary counsellor for Pakistan for trade and former senator-in-waiting for Alberta.