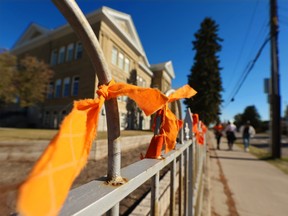 Article content
With the National Day for Truth and Reconciliation on Sept. 30, I've been reflecting on examples of reconciliation in action observed in my personal and professional life. I am a member of the Métis Nation of Alberta with familial connections to Red River and an assistant professor in the Werklund School of Education and the faculty of social work at the University of Calgary. My work focuses on Indigenous education and the well-being of Indigenous youth. I am invested in the topics of Truth and Reconciliation as a parent of two Métis children, an educator, researcher and community member.  
Article content
While the Calls to Action require resources and commitments to structural change, I am heartened to see the ways reconciliatory action is happening in every aspect of my life. After an interview I participated in for UToday, I was contacted by people from across campus — faculty, students and Indigenous community members — all expressing shared interests with the community-based work that follows the lead of Indigenous community partners. There were non-Indigenous people working alongside Indigenous people in research and activism, as well as Indigenous people supporting their communities through land-based healing practices. 
Article content
Working alongside so many Indigenous and non-Indigenous people in the space of Indigenous education, we all have a responsibility to reconciliation. This teaching requires us to face the difficult truths and lesser-known histories and legacies of colonization. It is challenging work, but so important. I continually have students comment that our Indigenous course has changed their lives. Inevitably, I have students emailing me over the years who want to share a connection to learning from the course or ask further questions as they take the learning into their own practices — this makes the difficult work worthwhile.  
As an Indigenous scholar, I am pulled into many meetings across my two faculties and in Indigenous circles across campus. It is increasingly more common to begin these meetings with smudge and/or an opening prayer led by an Indigenous elder. This also happened during the interview process for the position I now hold. Events and presentations begin with beautifully personalized land acknowledgements. Sweat lodges are conducted regularly with the faculty of social work. Ceremony is a recurring, accepted and celebrated part of my work life, and is something I couldn't have anticipated five years ago.  
Article content
Meeting people in public settings — strangers turned new friends — many are eager to share their connections to reconciliation, emphasizing schools with name changes, for example, and their concern that apologies need to be accompanied by action. Private sector corporations, such as Pembina, fund some of my community-based research projects that centre the needs, interests, priorities and values of the Indigenous leaderships and the people they serve. The government has earmarked funding to support Indigenous education initiatives, research, scholarship and programming. The Indigenous scholars who have come before us have worked to create more opportunities and foster safer spaces for us to thrive in the academy and there are growing numbers of Indigenous students in our university classrooms. 
Article content
Change is all around: new literature and resources available in schools, culturally accurate portrayals in movies and TV series, and public conversations about truth and reconciliation. More and more Indigenous voices are being invited, heard and respected. Indigenous and non-Indigenous people are beginning to work together to raise awareness about the truths of colonization, increase social consciousness through Indigenous education, and repair relationships that have been broken for generations. We are still healing from past traumas. Many examples of structural oppression and systemic racism remain. There is a long way to go in reconciliation, but so much of what I live in my personal and professional life gives me hope that we will continue to make this change for the generations to come.  
Jennifer Markides is an assistant professor in the Werklund School of Education and the faculty of social work at the University of Calgary.