We must expect a Liberal government to give more than platitudes, and we should expect the Tories to propose solutions, writes David Steele.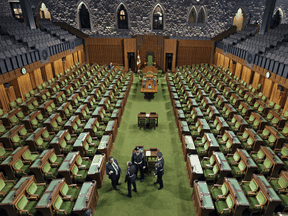 Article content
The Reagan quote "Government is not the solution, government is the problem" is still trotted out by many. Less government is the mantra and some would seem to favour no government (unless their segment of the economy desires support).
Article content
There is a great irony in politicians campaigning for office on an anti-government platform. Many were elected when they were too young to have accomplished anything in the real world so their only possible claim to fame is as part of government. They receive a reasonable salary and are soon eligible for a pension exceeded in its largesse only by those for corporate CEOs.
So what does less government mean? Judging by the performance of its adherents it doesn't mean fiscal responsibility. Deficits and debt nearly tripled during the Reagan years. Cutting taxes is easy. Cutting services is not. According to a Fraser Institute analysis, in recent years only the Chrétien government actually attacked deficits and debt.
Belief in less government doesn't seem to preclude massive intervention, as evidenced by bailouts approved by Bush and Harper governments. Perhaps it means targeted intervention; in the case of the Harper government this was criticized in a Fraser Institute article as crony capitalism.
Although some are now criticizing pandemic measures and deficits, all parties voted for the aid packages. Diehard believers in the market are now proposing relief from high gas prices.
Jason Kenney, more of a libertarian than a government leader, proposed interventions large and small from buying a pipeline to designing a very unpopular curriculum. Scott Moe seems to believe in more government. Saskatchewan has more than double the municipal governments compared to Alberta, which has four times the population. Rather than less government, Pierre Poilievre is proposing government intervention in everything from Bank of Canada policy to university policy. (One would think there were more important national issues than supporting Jordan Peterson's refusal to use someone's preferred pronouns). Poilievre also seems oblivious to the inappropriateness of a prospective Prime Minister attempting to better his personal financial position by promoting Bitcoin. On that point, how long will it be before we hear calls for help for those who were bankrupted by the crypto crash?
Article content
Unexamined belief in less government allows politicians to campaign in exclusively negative territory. Promising no more involvement in the WEF is primarily an invitation to conspiracy believers, but it leaves unanswered what international alliances we would support. Decreased taxation? OK, what will be cut? No government has addressed deficits and debt without cuts. The Romanow government inherited the highest per-capita deficits and debt in Canada according to a Fraser Institute analysis. From 1991 we went from a $1.5-billion deficit to a balanced budget by 1994/95. The NDP is still being punished for cuts, including rural hospital closures. Remove regulation and promote the oil and gas sector? is there a plan to address climate change other than to pretend it isn't happening?
What is the role of government in providing information to the public? Does less government mean refusing to challenge Q'Anon nonsense, or worse, courting the support of adherents?
If we have anything other than a vague belief in democracy, we should expect an ineffectual Liberal government to deliver more than platitudes, and we should expect the Tories to propose positive solutions, not just the dismantling of institutions. And we should vote. The turnout in Ontario was 44 per cent and the Ford government got 40 per cent of the vote. In other words, 18 per cent of the population elected a majority government charged with governing 100 per cent of the population.
David Steele in a retired educator in Regina.
Want to know how we decide what to cover and how editorial decisions are made at the Regina Leader-Post and Saskatoon StarPhoenix? Get the weekly Letter From the Editor newsletter from the Editor in Chief Russell Wangersky and join the discussion on what goes into covering news and delivering commentary, both in print and online. Click here to subscribe.