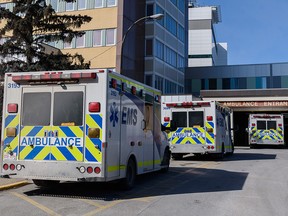 Article content
"Life is really simple, but we insist on making it complicated," Confucius famously observed about 2500 years ago. The short-sighted responses to our long-term systemic health-care challenges would prove him so very right now.
Article content
Living in one of the most advanced and compassionate nations, where we take pride in looking after each other, it is painful to see our signature universal health care failing at a fundamental level. Many are without primary care physicians, and some of us wait years to access specialist care. Emergency rooms in communities are closing, leaving the populations vulnerable and the morale of the front-line staff is at its lowest point. How did we reach here when we still spend a significant amount of our wealth and GDP on health care alone?
Article content
As an orthopedic surgeon with a busy practice, I am acutely aware of the current waiting times our patients endure to see us or have their surgeries. As the previous chief of surgery at our hospital and now working for a few committees, it has been apparent over the years that investing in the existing infrastructures of our health-care system should not be too complicated. There needs to be genuine political desire and intent to preserve this incredible social safety net for the next generations.
Article content
We should be spending our scarce resources to open the bottlenecks in our system with more nurses, opening up hospital beds and using the existing facilities. Still, we see attempts to develop extra bureaucratic layers like centralized booking offices, which can barely address our real problems 
There is widespread under-utilization in our existing facilities. Two state-of-the-art operating rooms at Medicine Hat Regional Hospital have hardly been used over the years because we do not have enough resources. Yet, there is now a full-fledged plan to spend at the private operating centres across the province. Apart from the public purse, the private centres would also tap into the same limited workforce, barely keeping our hospitals and facilities afloat.
Article content
On the workforce front, the lack of doctors and nurses has constantly challenged our health-care system over the generations. We all know how our system makes it extremely difficult and expensive for our highly qualified young aspirants here in Alberta and elsewhere in Canada to get into medical schools and other health-care professions. It is time we invest in our own when we have one of the best higher education systems in the world.
Like many working in health care across our country, my experience as a surgeon, medical leader and teacher has changed significantly during this pandemic. If the pain of watching a fractured society trying to fight a common enemy was heartbreaking from an insider's perspective, volunteering to work on the COVID floors during the Delta wave made me appreciate the dedication and professionalism of my colleagues at a whole new level. We all need to preserve and cherish such a workforce that represents the best of us.
Article content
The pandemic has given us insights into our system's fundamental challenges and fault lines. We have realized how parts of our vast bureaucratic system, even if well-meaning, make decisions in isolation, and our leaders fail to see the bigger picture. To solve these challenges, we expect our leadership to value, preserve and strengthen our workforce, listen to the front-line workers who understand the system, and create a strategic plan that is resilient and ready for our future. Looking for Band-Aid solutions and "consultations" with front-line providers as an afterthought is neither smart nor strategic.
How our leaders and we act and respond in the face of the current challenges will determine our long-term success, and it should not be complicated if we keep our priorities straight and the approaches sensible.
Dr. Debakant Jena is an orthopedic surgeon at Medicine Hat Regional Hospital.