The Canadian Bar Association offers a reminder about how the justice system works after complaints against a judge in a sexual assault case.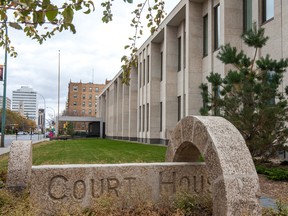 Article content
Recent articles have reported on complaints filed with the Canadian Judicial Council against a Justice of the Court of Queen's Bench for Saskatchewan who acquitted a former Regina doctor of sexual assault charges against his former patients.
Article content
Because of judicial conventions, a judge cannot give a public response to the criticisms offered after their decision is rendered. Judicial independence is an important aspect of the legal system in Canada and is of vital importance to the members of the Canadian Bar Association, Saskatchewan branch.
This letter seeks to provide information, not on the outcome of this specific criminal proceeding or complaints, but on the general role of the courts in Saskatchewan:
In any criminal trial, an accused must be proven by admissible evidence to be guilty beyond a reasonable doubt. If this requirement is not met, then the accused must be found not guilty;

Our system of justice does not seek to establish innocence. The presumption of innocence applies to any person accused of a crime. The accused is not required to prove their innocence; the Crown must prove their guilt;

Judges are independent and provide impartial and expert application of the law. Any findings of fact are made based on evidence presented at the trial, which is tested by cross-examination;

Judges are expected to decide cases based on the law and facts before them, and not based on external considerations;

Both the Crown and the defence can appeal a Court of Queen's Bench decision to the Court of Appeal. The Court of Appeal reviews trial decisions to determine if any serious error in law has occurred and, if so, to provide an appropriate remedy;

Our courts are open to the public and the media can report on court proceedings, including judicial complaints. This transparency and public scrutiny is intended to reassure the public that justice is not only done, but seen to be done; and

That a complaint has been made to the

Canadian Judicial Council does not predict what the Council will find, much as that a decision has been appealed does not mean that it will be overturned.
Reché McKeague is the president of the Saskatchewan branch of the Canadian Bar Association.
Want to know how we decide what to cover and how editorial decisions are made at the Saskatoon StarPhoenix and Regina Leader-Post? Get the weekly Letter From the Editor newsletter from the Editor in Chief Russell Wangersky and join the discussion on what goes into covering news and delivering commentary, both in print and online. Click here to subscribe.