Montreal's current housing crisis is the result of policy decisions, and we appear to have learned nothing from the past 30 years.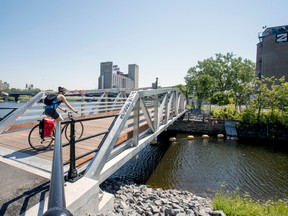 Article content
Gentrification is not simply about middle-class people moving into poorer parts of the city, jacking up rents and house values. It also concerns the tax breaks, green infrastructure and other state-led urban restructuring efforts that make it all possible. Simply put, Montreal's current housing crisis is the result of policy decisions, and in the proposed Bridge-Bonaventure real estate mega-project, essentially Griffintown 2.0, we appear to have learned nothing from the past 30 years.
Article content
By the early 1980s, social mixité emerged as a central tenet of progressive urban planning. It built on an earlier idea that a "culture of poverty" trapped poor people in an intergenerational cycle. It was presumed that rubbing shoulders with middle-class people results in some of their winning middle-class values rubbing off. Research says otherwise.
Article content
The absence of any structural understanding of why people are poor is staggering, as is the disregard for what actually happens when middle-class people flood into poorer neighbourhoods: rents skyrocket, house values and property taxes climb, the number of rental properties diminishes, stores become upscale and neighbourhood groups pivot away from poorer residents. Ultimately, most poor people are driven out.
Article content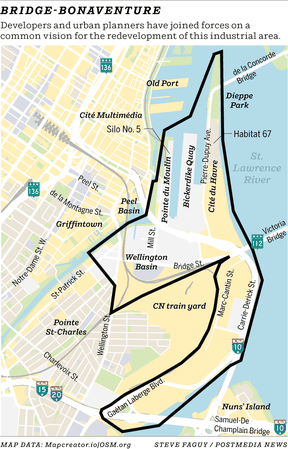 The 1980s and 1990s proved to be a watershed. The March 1986 Summit on Montreal's Economic Future provided the political cover to lift the moratorium on conversions of rental units to condos, in place since 1975. The city justified the move by saying it would improve Montreal's aging housing stock and boost the local economy. Much public money was also invested into redeveloping industrial and railway lands to attract middle-class homeowners back to the city centre.
Nowhere was this more apparent than in Sud-Ouest borough. The postindustrial transformation of the Lachine Canal was a powerful sales tool for developers wishing to attract young professionals. It represented vital green infrastructure for gentrification, ultimately "flipping" the area's working-class neighbourhoods.
Article content
One of the first areas targeted for gentrification was Little Burgundy, which in the 1980s had a growing reputation as a racialized "ghetto." The canal-front and the old railway lands that once ran through the middle of the neighbourhood were redeveloped with public monies for the middle class, resulting in a segregated neighbourhood. Walk along Notre Dame St. W. today and tell me that these businesses serve both sides of this racial and class divide.
This shift in policy did not occur without neighbourhood resistance. However, there was growing tension between activists who believed in managing change and those who considered this to be a political and economic dead end.
A key moment came in 1987 when word got out McGill University wanted to convert the former Copak factory in St-Henri into a student residence. Despite the opposition of the Projet d'organisation populaire, d'information et de regroupement (POPIR), other area groups sought to negotiate favourable terms to compensate for the loss of industrial space and the arrival of mainly middle-class students in one of the city's poorest neighbourhoods. Eventually, McGill agreed to pay $500,000.
Article content
Copak set a pattern for community accommodation to gentrification and a future without working-class downtown neighbourhoods.
In 2005, this accommodation to gentrification hardened into a city-wide policy for the inclusion of 15 per cent social housing with (not in) any large condo development. Sometimes, this accommodation is held up as the "Quebec model." It has, in reality, utterly failed to protect those most vulnerable and has brought us to our current situation.
This month, the Office de la consultation publique de Montréal paid for expensive newspaper advertisements celebrating its 20 years of existence. I am in no mood to celebrate. The OCPM has done much to legitimate the process that has led to our current housing crisis. It's essential for Project Montréal to intervene forcefully in the Bridge-Bonaventure mega-project to ensure that this development is not a continuation of the policy failures of the past.
Steven High is a professor of history at Concordia University and author of Deindustrializing Montreal: Entangled Histories of Race, Residence and Class (McGill-Queen's University Press, 2022).
Quebec election: Affordable housing a growing concern in trendy Verdun

Opinion: From Balconville to Condoville in Montreal's southwest

Opinion: Gentrification helps everyone, be it in St-Henri, HoMa or elsewhere