Article content
It's Windsor's biggest street party and thousands of residents joined in.
Article content
Open Streets Windsor 2022 offered up plenty of fun activities and a great reason to enjoy the weekend's warm sunshine along an eight-kilometre route spanning numerous neighbourhoods from Sandwich Town to Ford City.
Article content
Streets crowded with people but devoid of vehicular traffic Sunday saw hundreds of cyclists, rollerbladers, skateboarders, pedestrians and lots of pet dogs taking in a variety of musical entertainment and healthy physical activities.
Couples and families explored new neighbourhoods, stopped to nibble on snacks or try their skills at belly dancing or Zumba.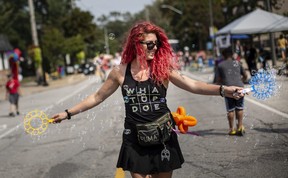 Karly and Ryan Coop brought their children Charlotte, 6, Watson, 4 and Elliot, 2, early Sunday for the kids' booths.
"The kids play some games outside in the street and do some crafts," Karly said. "And they just like to ride up and down."
Article content
The siblings happily rode their scooters down Wyandotte Street in Walkerville as mom and dad tagged along.
"We started coming when (Charlotte) was nine months old," Karly said. "We live in Fontainebleau so we don't usually come on this side (of the city) as much.
"So this lets us see what's around here more."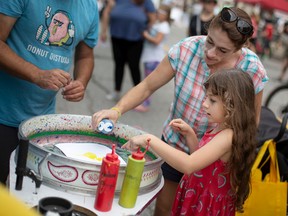 Performers, vendors, games, information booths and more stretched along parts of University Avenue and Wyandotte Street from Sandwich Street on the west side to Drouillard Road on the east, set up at eight activity hubs, from 10 a.m. to 2 p.m.
The free event is hosted by the City of Windsor. Motor City Community Credit Union was the title sponsor.