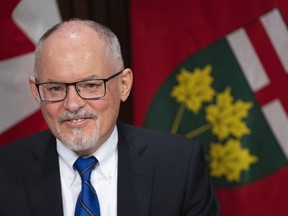 Article content
Ontario has joined a growing list of provinces making a fourth dose of COVID-19 available to all adults as a seventh pandemic wave continues to surge.
Article content
Chief Medical Officer of Health Dr. Kieran Moore made the announcement Wednesday, saying his most important message is to stay up to date on vaccinations. The second dose will be optional, he said, and people should consult with their doctors. He said those with health risk factors would benefit the most.
He said getting a second booster would not interfere with peoples eligibility to get a booster in the fall.
Until now, Ontario had offered the fourth dose, or second booster shot, to people over 60, those living in long-term care and other congregate settings and some people with compromised immune systems.
There have been growing calls for the province to expand eligibility, especially to health-care and other frontline workers, as the surge in infections begins to show up in increased hospital and long-term care outbreaks and rising hospitalizations, which threaten to further destabilize the fragile hospital system.
Article content
Ottawa physician Dr. Nili Kaplan-Myrth has been preparing legal action against the province to get it to expand access to fourth doses. She argues that limiting access disproportionately affects the poor and people who have no option but to come in constant contact with members of the public.
The seventh wave is the first severe COVID-19 surge during the summer in Ontario since the pandemic began in 2020. Although there have been spring waves, cases have generally dropped in previous summers, in part because more people are outdoors.
But the BA.5 Omicron subvariant, which is driving the seventh wave, is the most contagious yet and is able to reinfect even those who have had fairly recent COVID-19 infections. Given that mask restrictions have been lifted and more people are gathering, the subvariant is spreading quickly.
Article content
Ottawa's wastewater signal, which tracks the amount of virus in the city's wastewater, is already higher than it was during the first Omicron wave in January. It has not yet reached the peak of the spring wave, but it is still going up.
Cases and hospitalizations are also increasing, as are outbreaks in hospitals, long-term care homes and other congregant settings. There are currently 780 active cases in the city confirmed by PCR tests, according to Ottawa Public Health. Five hundred and forty nine of those cases were reported in the past week. Those cases represent a small fraction of overall infections, because the vast majority of people do not have access to PCR tests and their results are not recorded.
There are 24 people in Ottawa hospitals with active COVID-19 infections, three people in intensive care, and 29 outbreaks in institutional settings.
Article content
On Wednesday, The Ottawa Hospital put some restrictions back in place in response to an increase in COVID-19 hospitalizations and staffing challenges. Those include asking staff who can to work from home and limiting visitors for patients to one visitor per day for one hour, among other things.
Just a month ago, the hospital had returned to normal operations as COVID-19 hospitalizations and other indicators were dropping.
"We will continue to monitor the situation and adapt as needed, while maintaining hospital operations and patient safety at all times," said spokesperson Michaela Schreiter.
COVID-19: Omicron variant has set the stage for summer of disruption, epidemiologist says

'Long, hard summer' for Ontario hospitals amid shutdowns, staffing shortages and growing concern