An Ottawa physician who had been planning to proceed with legal action against the Ontario government to push for more access to second booster doses said that action would likely continue if access was only expanded on a limited basis.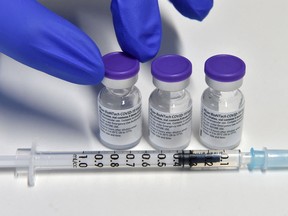 Article content
With the seventh pandemic wave growing, Ontario's chief medical officer of health is scheduled to give a rare public update Wednesday for an announcement about expanding access to fourth COVID-19 vaccine doses.
Article content
There have been growing calls for the province to do so. But it remains unclear whether access will be expanded to include all adults — as in Quebec — or to health workers and others who are highly vulnerable.
In Ontario, only those 60 and over, people living in congregate care, some people with compromised immune systems and First Nations, Inuit and Métis people and their household members are currently eligible for second booster doses, the fourth doses since COVID-19 vaccines were first available.
In Quebec and Nunavut, the boosters are available to adults over 18, based on the date of their last shots. Other provinces have made them available to some individuals.
The current wave, driven by the highly transmissible BA.5 Omicron subvariant, hit Ontario just as hospitals were facing crisis-level staff shortages and some have been forced to close emergency departments. COVID-19 outbreaks in hospitals have the potential to worsen the crisis.
Article content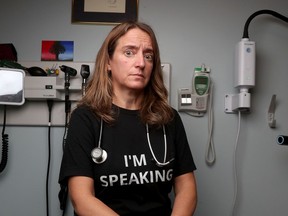 Ottawa physician Dr. Nili Kaplan-Myrth says there is no reason not to offer second booster doses to the general population. She had been planning to proceed with legal action against the Ontario government to push for more access to second booster doses of COVID-19 vaccines. She said that action would likely continue if access was only expanded on a limited basis.
"We have an abundance of vaccine — there are thousands of doses being thrown out — and we are merely asking for the right for patients to consent to receive their fourth dose now, before they are (re)infected," she said.
Kaplan-Myrth says the inability to access booster shots disproportionately affects poorer people and puts those who are frequently exposed because of their work, transportation or family circumstances at high risk.
Article content
The now-dominant BA.5 subvariant of Omicron is the most contagious yet and is more likely to evade past immunity by reinfecting people who had COVID-19 just weeks earlier, in some cases.
Kaplan-Myrth has raised more than $10,000 through GoFundMe for the legal fight, money she says she would prefer to repay and have the province take the step.
But not everyone thinks fourth doses should be distributed widely right now. Some argue it doesn't make sense for people who are not at high risk and they would be better off to wait until fall.
Halifax-based infectious disease specialist Dr. Lisa Barrett argued on Twitter that there was an "excellent immunological rationale" to wait until early fall for an additional dose of COVID-19 vaccine, especially for people under 65 who do not have an additional reason for an extra dose.
Article content
"If you expect the peak virus to be 3 months from now and you boost now, your response will be waning and re-boosting too fast will quite likely give a suboptimal response at a peak virus time. Use other tools right now to add protection," Barrett wrote.
Others argue strongly that people should get boosted now if they can.
Ottawa epidemiologist Raywat Deonandan feels people should take the vaccine that is here while cases are rising.
"There is no guarantee that the much-ballyhooed bivalent shot will be available to us in any appreciable volume in the fall, whereas doses of the existing vaccine are here with us now. I say all adults should seek a second booster," he said.
The bivalent is a vaccine under development that includes specific protection against the Omicron variant.
Article content
But the most compelling argument to at least expand second doses to health workers are the growing number of outbreaks, including in hospitals, right now, at a time when hospitals are under extraordinary stress.
In a statement earlier, a spokesman for the Ministry of Health said it was reviewing the latest guidance from the National Advisory Council on Immunization (NACI) and "will be providing details for booster shots over the coming weeks."
The latest guidance from NACI, though, calls for booster shots in the fall, not the summer.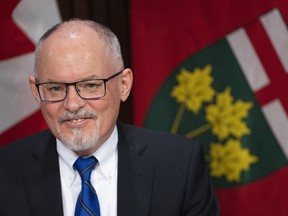 Chief Medical Officer of Health Kieran Moore has said in recent days that high vaccination rates, immunity from previous infection and availability of effective treatments such as Paxlovid, combined with what has been seen in other jurisdictions, mean Ontario should not be hit as hard during the current wave as it was in some past waves.
Article content
With hospitals already under extraordinary pressure, even a small bump in COVID cases could make things difficult this summer. In Ottawa, hospitalizations and outbreaks, including in hospitals, are rising.
Kaplan-Myrth said that, between now and October, people would be reinfected with COVID-19 and would no longer have protection from their first booster if they had it more than five months ago.
"Having a booster now will give you that degree of protection until fall, which means you have less chance of ending up in hospital."
Moore is also expected to talk about rapid antigen tests during a Wednesday morning media conference at Queen's Park in Toronto.
RELATED: Kaplan-Myrth: It shouldn't be this hard to get COVID vaccine boosters approved