Years ago, Mike Jack used to think Sriracha was hot. Today his competitive pepper-eating rivals know him as "the Molten Moose."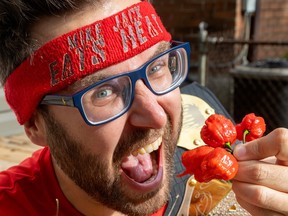 Article content
After eating a succession of ferociously hot chili peppers for 90 minutes without so much as a gulp of water to douse the pain, Mike Jack watched his last remaining rival, who was in obvious distress, reach for his plastic-lined Home Depot bucket.
Still, as an Ottawa crowd watched the climax of the stomach-pummelling competition, Jack kept powering through his own bowlful of fire-engine red Armageddon peppers. The 41-year-old man from London, Ont., couldn't risk stopping. Not with what was at stake: the Extreme Chili Alliance Championship Belt and a $250 cash prize.
Article content
It might sound like a paltry reward for driving across Ontario and subjecting one's mouth and stomach to searing punishment. But Jack is so committed to pepper-eating that he recently quit his factory job to do it full-time. He made that career change after becoming a pepper-eating world champion.
In May, on the other side of the world, he won the League of Fire World Chilli Eating Belt after defeating Australia's Greg "Iron Guts" Barlow at the New Zealand Hot Sauce Festival in Auckland. The Canadian, who has broken 12 Guinness World Records, most of which were for eating peppers, beat the Australian after 15 rounds of pepper-eating. The evenly matched competitors each ate 65 peppers and downed three shots of hot sauce before putting it all on the line in a tie-breaking speed round in which 10 more peppers were eaten.
Not bad for a guy who two decades ago couldn't take the heat at all, but was seduced by the taste of Sriracha and Frank's RedHot. "I thought that stuff was hot," Jack said.
Now, Jack — or "Molten Moose," as some call him — is the one to beat at extreme chili eating competitions. His equipment includes rubber gloves to protect his hands. Through earbuds he listens to a playlist of 28 motivational songs, including We Are The Champions, I'm Still Standing and Comfortably Numb. Jack calls his playlist "The Pain Is Not Me."
Article content
At the Ottawa competition in mid-September, Jack usually kept his eyes closed while eating. But, when they were open, he could see a framed photo of two heroes, meant to boost his pepper-eating stamina: Terry Fox, and Thich Quang Duc, the Vietnamese monk who immolated himself during a 1963 protest in Saigon.
"Thinking of their great feats makes the task of eating peppers for an hour seem smaller and more manageable," Jack said. "I think, 'If Terry Fox could run a marathon every day for 143 days with one leg, then eating peppers for an hour should be easy,' or, 'If someone could literally light himself on fire and calmly burn to ash, I should be able to metaphorically burn myself up.'"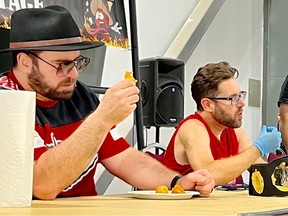 The competition was the finale of the third annual Heating Up The Capital Hot Sauce Expo, which drew almost 1,000 people and more than 30 Canadian vendors to the EY Centre.
Jack and three rivals started with jalapeños and worked their way up — cayenne, habanero, Carolina Reaper, Madame Jeanette, Yellow Ghost Scorpion, Lemon Bob, Orange Scorpion, Reaper Beast Peach, Armageddon.
What's more, those peppers were freshly picked by small-batch producers and therefore more potent than store-bought peppers, said contest judge and emcee, Haico Krijgsman, also the founder of the Ottawa company Haico's Hot Sauces.
Article content
Two contestants bowed out within the first half-hour.
Ottawan Mike Bastien, a first-time competitor who signed the waiver and took part at his wife's suggestion, left first.
"We do eat a lot of spicy food, and we do enjoy pickled banana peppers. Those are almost like candy in our household," Bastien said.
But the wildcard competitor stopped about five types of peppers in and later explained: "The heat was fine for me. The flavour and texture of the pepper caused me to not want to move forward. It was going to make me throw up."
Next to exit the stage was Shane "Viking Heat" Hammond, of Stratford, Ont. After his departure, Jack and Aaron "Monster Heat" Jewells of Woodstock, Ont., were locked in an hour-long battle, which Krijgsman called a "game of wills."
As Jewells went through sheet after sheet of paper towel to wipe away sweat, a few feet away Jack appeared surreally unflappable, eating incendiary peppers as if there was nothing to it. Occasionally, he wiped his face with a cloth towel.
"He's learned how to meditate, and, like, go to a different place," said Jack's wife, Jamie, who cheered on her husband from the first row of spectators.
Article content
The Jacks have been together for two decades, during which time Jamie has seen Mike grow increasingly fond and tolerant of hot sauces.
"Over the course of 15 years of finding hotter and hotter sauces, starting with a dot and adding more and more each time, I could use the sauces made with the world's hottest peppers like ketchup, basically," Mike Jack said.
But it's a huge jump to go from adding sauce to eating raw pepper pods. About six years ago, at a friend's suggestion, Jack began making YouTube videos featuring him eating Carolina Reapers. His feats escalated until, for a charity event, he ate 30 Carolina Reapers, which are ranked the world's hottest peppers, with a measure of 1.6 million Scoville heat units.
Keen to break world records, Jack realized that many eating records were speed-based. So he researched and practised speed-eating. For a time, he held such records as the most almonds eaten in a minute (32) and the fastest time for eating a banana with no hands (37.782 seconds).
He has not beaten any records for eating hot dogs — or anything meaty — because he is a vegan.
Article content
The job can be dangerous. Once, during a practice session, Jamie Jack had to use the Heimlich manoeuvre on her husband after he had a corn-chip speed-eating mishap.
"That's the worst thing that's happened (to me)," Mike Jack said.
Now, if not earlier, is when this article should include the disclaimer: Kids, don't try this at home. All the more so because two weeks ago, Jack demonstrated his response to the Paqui One-Chip Challenge — the now-notorious dare that reportedly hospitalized some children and was linked to an American 14-year-old's death earlier this month. Jack ate 71 of those chili-dusted chips.
Jack still holds five world records, namely: fastest time to eat 50 Carolina Reaper peppers (six minutes, 49.2 seconds); most ghost peppers eaten in two minutes (246 grams); longest habanero kiss (15 minutes, 6.5 seconds, with his wife, of course); fastest time to drink a bottle of hot sauce (8.56 seconds); and fastest time to drink a litre of tomato sauce (one minute, 5.56 seconds).
Earlier this summer, Jack left his factory job because, as his wife said, it impeded his eating exploits and all they entailed: the travel, the "Mike Jack Eats Heat" branded content for social media, the many sponsorships shown on his singlet and product deals such as the Mike Jack Eats Heat-Taco Tuesday Hot Sauce made by Dawson's Hot Sauce in Hamilton.
Article content
"At first I was nervous. Now, I'm super-encouraging. Let's see where this can take us," Jamie Jack said.
***
It was 6:15 p.m. inside the EY Centre when Aaron "Monster Heat" Jewells went for an empty bucket to regurgitate. By the rules, he had to stop eating peppers. But that didn't mean he automatically lost. If he had eaten more peppers by weight than Jack at the end of the competition, he would win.
As "Viking Heat" Hammond consoled Jewells, his face still firmly in the bucket, a smattering of spectators applauded for the fallen pepper eater. As Krijgsman said: "They suffer for your entertainment."
Jack seemed to scarcely notice Jewells' stomach capitulating. He only stopped eating after Krijgsman saw that Jack easily consumed more peppers from his bowl than Jewells had. He told Jack to stop. Mercifully, it was over.
The judge later determined that Jewells had eaten 850 grams of hot peppers during the competition before his body gave in. Jack had eaten 900 grams.
"This is fricking amazing. That was one hell of a competition," Krijgsman said.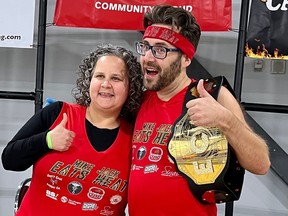 Declared the winner, Jack stood up, grabbed the ECA belt that he had retained, raised his arms in victory and appeared almost refreshed. The thinned-out crowd applauded again. (A larger audience of more than 200 people have since watched the video of the competition on YouTube.)
Article content
After the competition, Jack reflected on his strategy. In the final round, he tried to speed up so he'd be ahead when Jewells' stomach eventually gave out. "I looked over at his pail of peppers and figured I had eaten more, but I had planned to eat some more to make sure.
"Haico did me a favour by weighing the pails and telling me I won. I didn't really want to eat any more. But I could have, if I had to, in order to win."
Asked to describe the long-lasting discomfort that can happen after the competition, Jack said the worst-case scenario was about 14 hours of pain.
"People call it the cap cramps — capsaicin cramps," he said. "It really feels like somebody's reaching into your guts and giving them a squeeze and a twist. That's where it's not so fun."
But Jack said the pain was worth it.
"People still box and they get their faces punched," he said. "I consider it a sport, and there's the famous saying in sports: The pain is temporary, but the memories last forever. Hurting for 14 hours, I think it's worth it if I've gotten to see a lot of the world, win a lot of things, do a lot of challenges."
The day after his voluntary ordeal, Jack said his suffering this time was not so bad.
"Saturday night was actually great," he said. "After the competition, I got most of the peppers out of me and then we grabbed some pizza before heading out to the festival after-party … I had a great sleep this time and was fine in the morning."
Our website is your destination for up-to-the-minute news, so make sure to bookmark our homepage and

 

sign up for our newsletters

 

so we can keep you informed.
Eating in judgment at the Fatboy's Canadian Capital Classic BBQ Competition

OC Transpo drivers shun uniforms in one-day labour protest