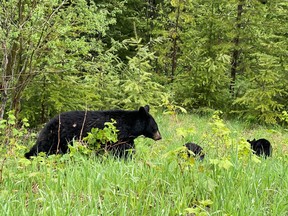 Reviews and recommendations are unbiased and products are independently selected. Postmedia may earn an affiliate commission from purchases made through links on this page.
Article content
We saw 14 bears on a rainy Saturday in Golden, B.C. Ironically, the one bear we paid to see was not among them. As we stood outside the enclosure of the Grizzly Bear Refuge at Kicking Horse Mountain Resort listening to a fascinating commentary about Boo the bear who lives there, something moved behind the guide inside the enclosure. I heard my husband say, "That's not Boo. It's the wrong kind of bear." Our guide turned around and confirmed that a juvenile black bear had somehow climbed through the electric fence and gotten inside Boo's enclosure. He got on his radio and a flurry of activity was set into motion. All the guests were promptly escorted off the mountain while the team tried to figure out how the rogue bear got inside and, more importantly, how to get him out unharmed.
Article content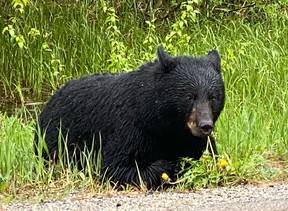 We were a little disappointed when we woke up to pouring rain on the first day of our weekend escape. The weather had been sunny and gorgeous on the drive out the day before. Fortunately, I was pessimistic enough to bring a rain jacket. Unfortunately, I was optimistic enough not to bring rain pants. My jeans were soaking wet from the ride up the chairlift to visit Boo. Things weren't starting as planned.
We had several hours to kill before our lunch reservation at Eagle's Eye Restaurant, so we hopped back in our vehicle and began driving down the road from Kicking Horse Mountain Resort. On our way up earlier that morning, we had seen two black bears. We thought we might see more if we drove back down the road and we weren't disappointed. A short way down, we spotted a black bear sow with three tiny cubs right on the edge of the road. Further along, we watched a juvenile black bear climb a tree when it was startled by the sound of our vehicle passing by. We spent the morning photographing bears – just not the bear we'd planned to photograph.
Article content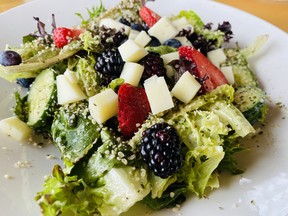 Back at Kicking Horse Mountain Resort, we made our way up the gondola to Eagle's Eye Restaurant. Perched at the summit of Kicking Horse Mountain at 2,347 metres (7,700 feet), it is the highest elevation restaurant in Canada. On a clear day, you can see five national parks from the restaurant's massive windows. It's said to be an amazing view, but we couldn't see it through the rain clouds. We may not have seen the elevated view, but we did enjoy the elevated cuisine. I loved the Eagle's Eye Salad with artisan greens, fresh berries, aged Manchego cheese, toasted pumpkin seeds and hemp hearts.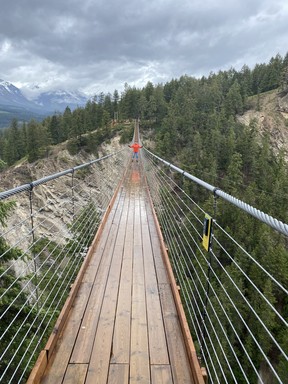 It was still raining when we got back down the mountain, but it wasn't pouring as it had been. We decided to head to the Golden Sky Bridge and take in the views from Canada's highest suspension bridges. The two bridges are perched 130 metres (426 feet) above an expansive canyon with a thundering waterfall in it. We were worried that the views of the surrounding mountain ranges might be obstructed due to the weather, but they weren't. It was raining intermittently and that was enough to keep the crowds away. We ended up having the bridges almost to ourselves.
Article content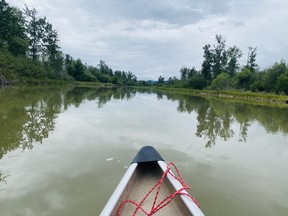 The weather was a bit better on the second day of our stay, so we rented a canoe from Columbia Wetlands Outpost, outside Golden. We spent the morning paddling through the wetlands viewing swans, ducks, geese, swallows, and other birds. It rained off and on and we may have gotten lost at one point, but we eventually made our way back to the dock. We spent the afternoon exploring the shops and restaurants of Golden.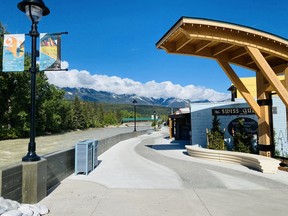 If a perfect weekend was dependent on the weather or how closely a trip followed what we had planned, our weekend in Golden would have been a disaster. Nothing we did went quite the way we planned it, but we still had a wonderful weekend in a beautiful place. Some of the best adventures are the ones you don't plan.
If You Go:
Article content
Where to Stay: There are many good accommodations in Golden. We stayed at a new property called Rooms at Riveredge in the heart of downtown. Rooms start at about $200 per night – depending on your dates of travel.
Where to Eat: We tried out several restaurants over the weekend and we loved Reposados Tacos, a great local Mexican restaurant with yummy tacos and margaritas. The food at Eagle's Eye Restaurant at Kicking Horse Mountain Resort was good and it has the distinction of being the highest restaurant in Canada. On a clear day, the view is exceptional.
What to Bring: Make sure you bring bear spray with you on any hikes. We took our bear photographs from inside the vehicle.
Debbie Olsen is an award-winning Métis writer and a national bestselling author. Follow her at www.wanderwoman.ca.