Segal became a billionaire from his remarkable business career, but is just as well known for his philanthropy.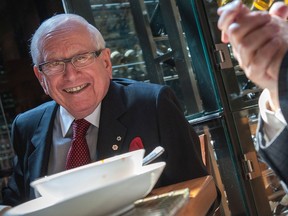 Article content
Joe Segal was a man of many sayings. At his funeral Wednesday, his son Gary recounted one of his favourites: "Money is only worth something if you do something good with it. Spend some on yourself, do good for others while you're alive. If you put it under the mattress, the mattress gets lumpy."
Article content
Joe Segal's mattress was never lumpy. He became a billionaire from his remarkable business career, but is just as well known for his philanthropy.
"Joe Segal in my opinion was a model citizen," said another local business legend, Jim Pattison. "He was a good businessman, but on top of that he was involved in the community. He was very open, and he had a lot of friends."
Pattison was among many friends who travelled to the Schara Tzedeck cemetery in New Westminster to pay tribute to Segal, who died early Monday morning at the age of 97.
Segal had overcome several serious health issues in recent years, including a bout with cancer, a broken neck and a stroke. But he worked until last Friday, and was in good spirits when his friend Rabbi Yitzchok Weinberg talked to him Sunday evening.
Article content
"I spoke to him about six o'clock," said Weinberg. "I said to him 'Joe, how are you feeling?' And he said 'Ah, I've got a little bit of a fever, nothing serious.'"
Segal's philanthropy is well-known thanks to the millions of dollars he contributed to Vancouver General Hospital, Simon Fraser University and the United Way, among others. But Weinberg said that out of the spotlight Segal did even more.
"He helped hundreds if not thousands of individuals who came to his door to ask him to help them out in a time of need, serious need," said Weinberg.
"He helped widows, he helped orphans, he helped almost anybody. He had friends from his childhood who didn't do so well, he helped them. His office door was always open, to anybody and everybody."
Article content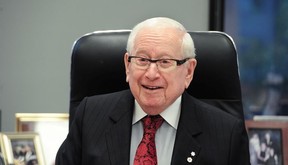 Segal's was a rags to riches story of a man who never forgot his humble roots. He was born in Vegreville, Alberta, in January 1926, and dropped out of school at 14 after his father died.
He started off selling fish door to door, then worked building the Alaska Highway. In Calgary for a little rest and relaxation, he was enticed into a poker game, where he lost the $3,000 he had saved working on the Alaska Highway.
He joined the Calgary Highlanders and was sent to Europe to fight during the Second World War, a life-changing experience. After the war he relocated to Vancouver, where he met the love of his life, Rosalie Wosk, with whom he had four children.
His retail career started off modestly, selling war surplus. In 1948 he founded a no-frills department store, Fields, which became a staple around western Canada. He took Fields public in 1968, and by 1976 the chain was doing so well Fields acquired Zellers, a much-bigger store.
Article content
In a 2013 profile, Segal told the Vancouver Sun's Denise Ryan that he had taken note of how a Zellers store was struggling near one of his Fields locations: "I had 6,000 square feet and was doing $1,000,000 a year. They had 24,000 square feet and were doing $400,000 a year."
After acquiring Zellers, he turned it around. In 1979 he sold Zellers to the Hudson's Bay Company, where he came a major shareholder and director. The same year he formed Kingswood Capital Corporation, a conglomerate with interests in real estate, manufacturing and financing.
Kingswood's offices are in the Pacific Centre tower at 701 West Georgia, an elevator ride from the Yew restaurant in the Four Seasons Hotel — his daily lunch spot where he would do business and impart his wisdom.
Article content
His Four Seasons lunches were so renowned Segal's friend Peter Legge wrote a book, Lunch With Joe, where he interviewed more than 90 of Segal's lunch companions.
He remained incredibly sharp into his 90s.
"He could figure out a mortgage off the top of his head in 10 seconds," said Weinberg.
"If you wanted to buy a building for $100 million dollars he could tell exactly how much it's going to cost you in interest. His mind was sharp as a tack."
But Segal wasn't just a numbers guy, he was a people guy who made friends easily, and was generous with his advice. It made him much beloved.
"It's been overwhelming to see the number of eloquent heartfelt messages that have been pouring in from people, from all over the world," Gary Segal said in his eulogy.
Article content
"I knew my father had a great, vast impact on people, but to see these genuine expressions of sorrow and appreciation for the person my father was has been truly extraordinary for me and my family."
Segal is survived his wife Rosalie, his children Gary, Lorne, Sandra and Tracey, and 11 grandchildren.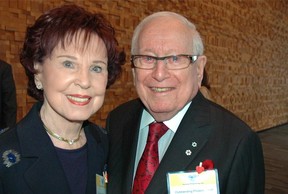 ---
More news, fewer ads: Our in-depth journalism is possible thanks to the support of our subscribers. For just $3.50 per week, you can get unlimited, ad-lite access to The Vancouver Sun, The Province, National Post and 13 other Canadian news sites. Support us by subscribing today: The Vancouver Sun | The Province.