'From what I know, I would have to say there's a lot of reasonable doubt there'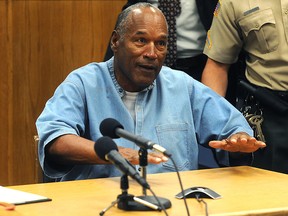 Article content
O.J. Simpson is weighing in on the Alex Murdaugh murder trial.
Murdaugh, 54, is on trial in South Carolina for killing his wife and youngest son in what prosecutors say was a bid to cover up his theft of millions of dollars.
Article content
Simpson — who was acquitted for the 1994 slaying of his ex-wife, Nicole Brown Simpson and her friend, Ronald Goldman — took to social media Thursday to say he's been asked repeatedly to give his take on the case, which has galvanized the public.
"I don't know why they think I'm an expert," the former NFL running back said in a video posted to Twitter.
Article content
"I gotta admit, when he took the stand … I thought it was a mistake because the guy's an admitted liar and it's hard for me to think he could be on the stand for five, six, seven, eight days without lying," Simpson, 75, said. "The question is, what did he lie about? Lying and stealing money is a little different than murder."
Murdaugh faces 30 years to life in prison if he is convicted of either murder count.
Investigators said his 22-year-old son, Paul, was shot twice with a shotgun and his 52-year-old wife, Maggie, was shot four or five times with a rifle outside of the kennels on their hunting estate.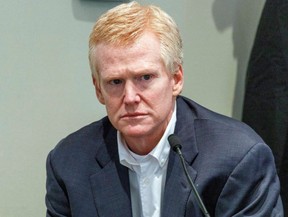 A key piece of evidence connecting Alex to the killings is a video Paul took from the kennels shortly before the murders in which his father appeared.
Article content
Alex had maintained that he hadn't been at the kennels that night. But while testifying in his own defence, he admitted that he lied and that he had been there.
"Why in the world would an innocent, reasonable father and husband lie about that? And lie about it so early?" prosecutor Creighton Waters asked jurors.
Waters said the disbarred attorney was an opioid addict who had stolen millions of dollars from clients, so it would be easy to lie about being at the kennels and killing his family.
"I realized in watching him testify what he was doing," Simpson said in the Twitter video. "He was just trying to relate to one or two of those jurors that he was a good ole' boy. That he was one of them. I'm not sure he didn't succeed in doing that. I'm not qualified to say whether he did it or didn't do it … From what I've seen, do I think it's more likely he did it? Yes."
Article content
But Simpson, who was convicted of armed robbery in 2008, said that while he thinks the ex-lawyer probably gunned down his wife and son, his testimony raised reasonable doubt.
"More likely equals reasonable doubt. So, from what I know, I would have to say there's a lot of reasonable doubt there. But he's going to go to jail for all the thievery he did, stealing millions of dollars from people"
Simpson said that Murdaugh should be investigated for collecting more than $4 million in insurance settlements after his former housekeeper fell at his home and died
"I think he should be looked at (in the) death of his housekeeper a few years ago where he ended up with over $4 million in insurance money. I think they should take a hard look at that."
Murdaugh faces 30 years to life in prison if found guilty by the jury, which began deliberations on Thursday.
The Alex Murdaugh murder trial, explained

Alex Murdaugh's lawyer attacks state's alleged motive in double murder trial

Agent insists Alex Murdaugh suggested he killed his son