More than half the season's total, 212 fires, happened between April 30 and May 14.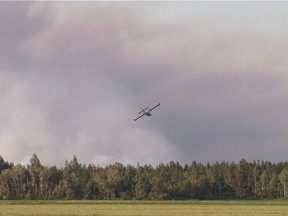 Article content
Despite a worrisome start, Quebec this year logged one of the least damaging forest fire seasons in nearly four decades, the Société de protection des forêts contre le feu (SOPFEU) announced on Thursday.
Article content
In 2022, about 242.9 hectares of wooded land in the agency's protection zone were affected by fire, one of the smallest areas recorded since statistics started being kept in 1984, with only 2004 and 2008 having comparable results.
Article content
The 389 forest fires reported this year are well below the annual average of 472 recorded over the past 10 years in Quebec.
However, the start of the 2022 season suggested the final result would be otherwise and was a busy time for SOPFEU firefighting crews, with 212 fires recorded between April 30 and May 14, more than half the season's total.
While that fiery start to the year was attributed to the dry conditions that prevailed at the start of the season, a series of low pressure weather systems then loitered over Quebec's forests for much of the summer, significantly reducing the threat of fire.
Article content
SOPFEU noted also that June and July were marked by regular and sometimes heavier than usual rainfalls that did not allow wooed areas to dry out.
The relatively calm summer allowed SOPFEU the luxury of having its crew contribute to fighting forest fires in Alberta, Newfoundland and Labrador, Nova Scotia and the state of New York.
While the number of fires this year in Quebec may have dropped, the reasons fires broke out remained depressingly familiar for SOPFEU. Seventy-three of the fires in 2022 were caused by discarded cigarette butts, 66 were started by improperly extinguished campfires and 82 were caused by attempts to burn trash.
Overall, 94 per cent of the forest fires in Quebec in 2022 can be attributed to human activity.