Work continues on design of the park upgrades, which could include pickleball courts and a pump track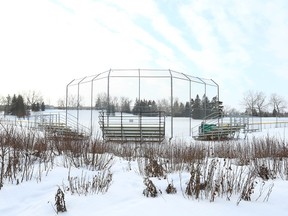 Article content
The city says it received no successful bids last year for a parcel of land that is currently part of the Richmond Green park.
Article content
The contentious plan to sell off a section of the park to a developer and use the proceeds to pay for upgrades to the rest of the park was approved by the previous council.
Article content
The city closed bidding on the 5.5-acre section of the park in early December. The suggested price was $15.57 million and came with requirements for developers that wished to purchase the land, including construction of a section of road and about 280 residential units.
In an emailed statement, the city said its initial marketing of the property had not resulted in a sale.
"Administration will be marketing the property again at a future date, but that date has not yet been determined and timing will be influenced by overall real estate market and economic conditions," read the statement.
Article content
City continues work on Richmond Green amenity upgrades
Meanwhile, work continues on the planned park amenity upgrades at Richmond Green. The city released the feedback from its first rounds of park consultations.
In a briefing to council's infrastructure and planning committee, administration laid out a concept design and a "what we heard" report from consultations with residents and stakeholders.
The former golf course lands and other sections of the park will make way for potential options such as tennis and pickleball courts, a large "destination" playground, a pump track, disc golf and basketball courts.
Richmond Green ball diamond land on the market for $15.57 million

Housing co-op says Richmond Green land sale was a missed opportunity for affordable units

Council moves toward potential sale of part of Richmond Green park
Mary Quinlan, Richmond Green Park project manager, noted none of those potential amenities are confirmed. After hearing feedback in three rounds of engagement, the design team will work toward a more finalized park concept.
Article content
"We're in the process right now of merging the feedback from all of those processes to field the preferred final concept that will go out for engagement again to the community in the spring," she said.
She said that final concept will go out as a draft, and designers will be able to make changes based on further feedback.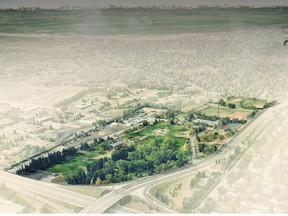 Pickleball courts popular, disc golf more divisive
Although the land didn't sell, Quinlan said they are moving on a timeline that would see park upgrades begin sometime next year, or in 2025.
The "what we heard" report contained verbatim feedback from the consultation process. While many were still expressing displeasure with the sale of the land on the west side of the park, others were excited about future opportunities.
Article content
Many of those consulted expressed support for pickleball courts and the proposed pump track.
Disc golf was a more divisive topic. A temporary disc golf course was set up on the former Richmond Green Golf Course after it closed.
Many quoted in the report expressed strong support for making disc golf a permanent amenity, while others were concerned about the amount of space it took up.
One person suggested there should be "less space dedicated to disc golf and more space for families to do things without getting hit by frisbees."
Natasha Guillot, executive director with the Calgary Horticultural Society, said her organization has been included in the discussions. The society rents a building on the park land and maintains some gardens there.
Article content
She said the city has been very transparent with them, and the society is mindful of the fact they are tenants on the land.
"As an organization, the desire for us and for the city is to remain here," said Guillot. "We're amazing stewards to this park. But, you know, there's a lot of factors that you can imagine in that type of decision."
Quinlan said the park remains an exciting project and her team is looking forward to more consultation with the community.
"They've been very engaged and we're looking forward to providing a better place for people to make a life and to enjoy their open spaces and our community," she said.
[email protected]
Twitter: @brodie_thomas