A slew of individuals and teams were pure-grade versions of their prototypical selves, starting with the amazing Josh Allen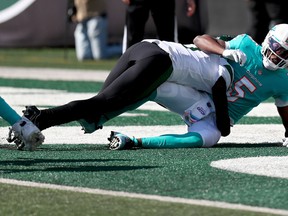 Article content
Sometimes, it really does seem that sporting-gods providence must be at work to produce — and explain — the unlikely events we occasionally see on playing fields.
Article content
Such as shortly after kickoff of Sunday's NFL game in East Rutherford, N.J., between the Miami Dolphins and host New York Jets.
Article content
The Dolphins, two Sundays earlier, had outraged a continent by allowing No. 1 quarterback Tua Tagovailoa to return to the game against Buffalo, on a controversial medical decision made jointly by a Miami team physician and an unaffiliated neurotrauma consultant (UNC), who determined that Tagovailoa's wobbliness and head-shaking were due solely to an injured back, not a concussion.
Article content
So what has happened since?
Four days later Tagovailoa most definitely was concussed in a game at Cincinnati. He's still not cleared to return to play.
The NFL and the players union, meantime, scrambled to investigate the Tua/Buffalo incident and, just on Saturday afternoon, announced an expansion of "no-go" signals in their jointly decided, in-game concussion-diagnosis criteria — which automatically render a player as concussed and out for the remainder of a game.
Article content
Those criteria now include wobbliness. Or, in medical terminology, "ataxia" or "gross motor instability," as a result of a brain injury.
So which team was first to lose a player under the new protocol? Why the Dolphins of course. And not just any player, but their quarterback — the very quarterback starting on Sunday in place of the concussed Tagovailoa: Teddy Bridgewater.
And, incredibly, it happened on Miami's first snap of the game. Fate did not wait to make amends.
Bridgewater dropped back from his eight-yard line and, an instant before getting hit hard, threw the ball away to no one, from in the end zone — an infraction for intentionally grounding that gave New York a quick 2-0 lead.
Thing is, Bridgewater was hurt. Dolphins medical staff walked him to their locker room, to be checked for a concussion, and a slightly injured elbow.
Article content
Medical personnel and the UNC promptly examined Bridgewater and determined that he, in fact, was not found to be concussed by virtue of the locker-room assessment tests, which take about 10-15 minutes to conduct. One of the assigned booth concussion concussion-spotters, however, made it known that Bridgewater showed signs on the play of ataxia, or wobbliness, and that this designation meant — under the brand-new protocol expansion — Bridgewater was done for the day.
He never returned to the game.
So, in summary, the team that allowed a quarterback 14 days earlier to keep playing despite showing clear signs of ataxia, on Sunday lost a quarterback for nearly the whole game despite arguably showing less-clear signs of ataxia.
Article content
The Dolphins, mostly with their starting quarterback, beat Buffalo on Sept. 25 — 21-19.
The Dolphins, mostly without their starting quarterback, lost Sunday to the Jets — 40-17.
Who says things never even out? Even if seldom this quickly. Or clearly. Or eerily.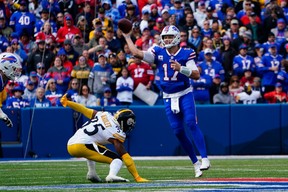 PURE-GRADE VERSIONS OF THER PROTOTYPES
Beyond that strange turn of events, and with a pair of notable exceptions, most teams (both good and bad) — as we have come to know them in recent seasons — were pure-grade versions of their prototypical selves in Week 5's Sunday afternoon games:
Josh Allen and the Buffalo Bills were as near to offensive omnipotence in the first half as one will ever see in the NFL, in mangling Pittsburgh.
The Cleveland Browns blew another gift opportunity to pull out a late victory, only because they offended and taunted the football gods even more than the team that luckily beat them, the Los Angeles Chargers.
Article content
The Jacksonville Jaguars reverted fully back to from (that is, incompetence), losing at home to the previously winless Houston Texans, 13-6. Jags QB Trevor Lawrence was picked twice and couldn't complete a pivotal pass down the stretch.
The Detroit Lions' offence joined their defence in wholesale hapless, hopeless ineptitude in a 29-0 blowout loss at New England. Pats rookie QB Bailey Zappe in his first pro start completed all but four of his 21 passes for 188 yards, a TD and one pick.
The Minnesota Vikings flashed offensive indomitability, as usual, but, as usual, couldn't sustain it for very long and nearly blew it big-time against the offensively futile Chicago Bears, before somehow rallying and holding on to win, 29-22, to improve to a most unconvincing 4-1.
Article content
Carolina cannot move the football, which is kind of an important thing for an NFL team hoping to win more than once or twice every two months. Sunday's numbers in a 37-15 defeat at home to San Francisco: 15 first downs, 308 total yards and only 64 on the ground.
The Tampa Bay Buccaneers hung on to beat Atlanta 21-15, perhaps only because officials somehow jumped in once again to protect poor ol' Tom Brady in the pocket, flagging Falcons D-tackle Grady Jarrett for roughing the passer — on as routine and harmless a sack as Brady probably ever has taken — which allowed the Bucs to retain possession with 2:56 left, instead of punting, then run out the clock to win by five. Referee Jerome Boger told a pool reporter afterward that Jarrett "unnecessarily threw" Brady to the ground. What?!
Article content
Pete Carroll's Seattle Seahawks defences were the most physical and feared in the NFL circa 2013-15, but now are as impregnable as a curtain of one-ply tissue paper, which last week made the Lions look like an offensive juggernaut, and on Sunday made New Orleans gadget-guy Taysom Hill look as athletic and dominant as Bo Jackson (one TD pass, and 112 yards and three rush TDs) in a 39-32 loss.
And the poor Washington Commanders, who after failing to gain a millimeter on two potentially game-winning snaps from the Tennessee two-yard line in the final 19 seconds, down 21-17, saw their last hope extinguished on another miserable, clutch-time Carson Wentz pass that was intercepted, to seal Washington's fourth straight defeat.
Article content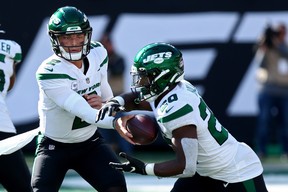 START SPREADIN' THE NEWS
New York, New York!
Sunday's two notable against-type exceptions? Both New York teams, which posted the day's most impressive, unexpected victories.
The Giants and Jets are now a combined 7-2 following the Giants' upset of Green Bay in England, and the Jets' homefield blowout of Miami.
The Giants beat the Packers, 27-22. The Jets squished the Fish 40-17. Neither is playing much at all like the awful clubs we've seen since about 2012.
The Jets, who had lost 12 straight games to AFC East foes, now are tied with Miami at 3-2 in the division, behind Buffalo and ahead of 2-3 New England. In Year 2 Jets head coach Robert Saleh has turned this team around on the field, thanks in no small amount to the young talent GM Joe Douglas has given him.
Article content
Zach Wilson threw for 210 yards without a pick in maybe his steadiest game as a pro, and rookie running back Breece Hall really broke out, rushing for 97 yards and a TD and catching two passes for 100 yards.
"He's an explosive player," Saleh said of Hall. "He hit a couple of home runs today."
In London, Green Bay had it. Late in the first half the Packers appeared well on their way to an expected easy win over the New York Giants, in the second International Series game in as many weeks.
Only the Giants weren't having it.
With most of their wide-receiving corps injured, and their quarterback Daniel Jones not-so-gimpy on an injured ankle, the Giants overcame a 17-3 deficit before halftime and defeated the Packers 27-22.
New York improved to 4-1, Green Bay dropped to 3-2.
Article content
The Giants held Aaron Rodgers after halftime to just 7-of-15 passing for only 75 yards, while Jones after halftime completed 13-of-14 for 136 yards, and he ran nine times for 34 yards to boot.
"This is as disappointing as it gets for us," Packers head coach Matt LaFleur said. "They outcoached us, they outplayed us … They kicked our butts in the second half."
New York head coach Brian Daboll went nuts in jubilation while jogging off the field afterward, but soon returned to his down-playing, it's-only-one-game self.
"At the end of the game it felt like a home game," he said in explaining his ecstatic reaction. "You're pretty excited. (Then) go to the locker room, drink a water and come out and do a press conference."
Kryk's straight-up picks for NFL Week 5

NFL Sunday preview: Deal made on concussion protocol change

KRYK: Russell Wilson — a sack-taking machine
Article content
ALLEN STOPS BULLETS, DESTROYS AGENT SMITH
He's the one, all right. Like Neo in the first Matrix movie, the saviour.
If Josh Allen wasn't already in the conversation as the greatest player in Buffalo Bills history, he should be now. And if he isn't No. 1 in your active-player Top 32 NFL quarterback rankings — as he is in mine — then his performance in the Bills' 38-3 annihilation of the Pittsburgh Steelers ought to convince you.
In the first half, as Buffalo ran up a 31-3 lead (the Steelers' largest halftime deficit in 32 years), Allen completed 14-of-24 for 348 yards and four touchdowns. Yes, in the first half alone.
If the Steelers offence had been able to keep up even within telescope distance, Bills coaches might have kept the pedal to the metal, but they didn't have to. Pittsburgh under game but overmatched first-time NFL starter Kenny Pickett was life-and-death to pick up first downs.
Article content
Buffalo is tied for the best record in the AFC, 4-1. Pittsburgh is 1-4.
Allen, who finished with a career-high 424 yards, began his incredible performance with a 3rd-and-10 long-bomb touchdown pass to Gabe Davis — into a brisk wind — that covered 98 yards.
He's the one.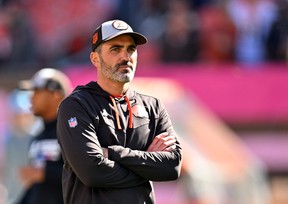 BROWNS BROWNS THEIR WAY TO ANOTHER LOSS
Cleveland ever will be Cleveland in football. Whatever black magic fell over this franchise in the mid 1960s — after owner Art Modell fired franchise founder and legendary coach Paul Brown, and once Jim Brown retired early to be a full-time actor — its effect remains potent and ruining.
Cleveland traded scores, and mind-boggling gaffes, with the Los Angeles Chargers all game before ultimately committing more and losing 30-28.
Article content
In the third quarter, with the Browns down 24-21, head coach Kevin Stefanski opted to go for it rather than punt on 4th-and-1 from Cleveland's 34-yard line.
Dumb. Chargers defensive tackle Christian Covington of Vancouver made a great swim move to penetrate and stuff the obvious run by Nick Chubb for a four-yard loss.
The Browns, though, took a 28-27 lead into the final quarter, then fell behind 30-28 with nine-plus minutes left. Temp QB Jacoby Brissett drove the Browns to the Chargers' nine with 2:55 remaining, well within rookie kicker's Cade York's field-goal range to take a late lead.
But Brissett got intercepted.
Los Angeles, never a team to accept such a victory gift without trying to squander it, then nearly blew it. Head coach Brandon Staley unbelievably went for it on 4th-and-1 from L.A.'s own 46, with 1:10 left, but his QB Justin Herbert threw incomplete.
Article content
Cleveland then just needed just 15 yards to get within York's comfortable field-goal range, but gained only 10 yards on five snaps — scandalously poor end-of-game execution.
York's 54-yarder with 11 seconds left was wide right.
ONE OF KIRK'S GREATEST KIRKS: VIKES 4-1
How high up is this week's entry in the Kirk Cousin pantheon of head-scratching performances? He started out completing his first 17 passes, a Vikings record. His counterpart, Justin Fields, hit on only 3-of-8 for 73 yards by halftime.
What's more, Cousins' backfield mate Dalvin Cook rushed for two touchdowns and nearly 100 yards on the day.
Yet the Vikings nearly lost. A Cousins QB sneak from the Chicago one with 2:26 left erased a 22-21 Bears lead, and Minnesota won 29-22.
Article content
BIG INJURIES
Miami WR Tyreek Hill was seen in a walking boot after the loss to the Jets. The foot got stepped on late … San Francisco's red-hot pass rusher Nick Bosa suffered a groin injury at Carolina … Seattle's starting RB Rashaad Penny broke an ankle … Rookie WR Chris Olave was concussed upon landing hard in the end zone on his 16-yard TD catch that put New Orleans ahead for good.
EXTRA POINTS
Philadelphia remained undefeated, improving to 5-0 with a 20-17 win at Arizona. Eagles QB Jalen Hurts rushed for a game-high 61 yards and two scores, and completed 72% of his 26 passes for 239 yards … Micah Parsons had two sacks and a forced fumble, as the disruptive Dallas defence was mostly responsible for the Cowboys' 22-10 win at the suddenly offensively inept Los Angeles Rams. QB Cooper Rush improved to 5-0 as a Dallas starter yet passed for only 102 yards. Rams QB Matthew Stafford was hit 11 times and sacked five times, lost two fumbles (one returned for a TD) and was picked off once.
John Kryk writes a weekly newsletter on NFL matters. That's where you can first see his straight-up picks each week. You can have the newsletter automatically dropped into your email inbox on Wednesdays simply by signing up — for free — at torontosun.com/newsletters/