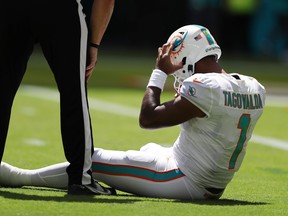 Article content
The NFL and NFLPA agreed Saturday to make it mandatory for any player who gets up wobbly from a head injury (now officially termed "ataxia") to be instantly ruled out of a game.
Article content
On Sept. 25 against Buffalo, Miami quarterback Tua Tagovailoa got up from a hard hit wobbling and shaking his head, but was permitted to resume playing.
Article content
All matters pertaining to player health must be jointly decided and implemented by the NFL and NFLPA.
This concussion-diagnosis protocol change is the primary action item resulting from a joint investigation into the Tagovailoa incident. The probe found that although all medical personnel followed the protocol to a T, and that the examination was earnestly conducted, "the outcome in this case was not what was intended when the protocol was drafted."
Article content
Both sides stopped short of disagreeing with the in-game locker-room assessment — made by Dolphins team physician and the assigned unaffiliated neurotrauma consultant — that Tagovailoa was not concussed, but rather was dealing with an aggravated back injury.
Article content
Starting Sunday, any player who displays wobbliness as Tagovailoa did vs. Buffalo will be done for the day. The new protocol defines ataxia as "abnormality of balance/stability, motor coordination or dysfunctional speech."
The NFL's two foremost decision-makers on medical matters — Allen Sills, the chief medical officer, and Jeff Miller, executive VP — told reporters on a conference call that ataxia joins loss of consciousness (including impact seizure and/or "fencing posture"), confusion and amnesia as immediate "no-go" signs that immediately render a player concussed, and finished for the game.
The league and players union previously described the condition as "gross motor instability."
But in common parlance? Wobbliness, as a result of a brain injury.
Article content
HERE'S TO YOU, BRIAN ROBINSON
Only six weeks after suffering two gunshot wounds in his right leg, in an attempted robbery, Brian Robinson Jr. is expected to play Sunday against Tennessee.
The Washington Commanders running back was activated Saturday from the non-football injury list after having returned to practice this week. Robinson likely will be gradually worked back into the running-back rotation, with Antonio Gibson and J.D. McKissic.
Robinson, a rookie, was en route to a restaurant in the Washington area when he was shot in an attempted carjacking or robbery, police said. The wounds required surgery.
"I did everything I needed to do … to make sure I was here (at practice)," Robinson said Wednesday, per ESPN.com.
Article content
GAGE QUESTIONABLE FOR BUCS
Backup Tampa Bay Buccaneers wide receiver Russell Gage was added Saturday to the injury list (back) and is questionable to play against Atlanta.
You need a scorecard to keep track of all the injuries to the Bucs' wideout corps. Or, actually, just the following paragraph.
Top WR starters Mike Evans and Chris Godwin are a go, and No. 3 Julio Jones might play (officially questionable, knee), as might backup WR Breshad Perriman (questionable, knee and hamstring). Backup Scotty Miller is a go.
Meantime, athletic tight end Kyle Pitts (hamstring) is out for Atlanta. And a reminder that RB Cordarrelle Patterson, who had such a spectacular start, went on IR with a knee injury.
'COMMUNICATION ISSUES'
Article content
Perhaps one reason the Carolina Panthers offence is a tire fire is reported "increasing communication issues" between embattled head coach Matt Rhule and offensive coordinator Ben McAdoo.
This, according to Aaron Wilson of ProFootballNetwork.com.
Carolina's attack is life-and-death to string six plays together.
PATS GET MEYERS BACK?
Reports Saturday said New England expects wideout Jakobi Meyers to play against Detroit. A knee injury has sideline him for the past two weeks.
That's ostensibly great news for rookie QB starter Bailey Zappe, although keep this in mind: Before Meyers injured his knee, Zappe was a third-stringer on the Patriots' practice squad. You can probably count on one hand the number of times he's ever thrown a practice pass to Meyers.
Article content
EXTRA POINTS
Tennessee on Saturday placed WR Treylon Burks, a rookie starter, on IR. He suffered a foot injury last Sunday and wore a boot afterward … Pittsburgh downgraded safety Terrell Edmunds (concussion) to out … The Rams placed OL Coleman Shelton (ankle) and S Jordan Fuller (hamstring) on IR … Philadelphia downgraded OT Jordan Mailata (shoulder) from doubtful to out.
FIVE BIG QUESTIONS
How do the rookie QBs fare in career start No. 1? Given the paucity of good offensive football this season, odds are against either Pittsburgh's Kenny Pickett (at Buffalo) or New England's Bailey Zappe (vs. Detroit) wowing us. Zappe, against that awful Lions defence, is far likelier to do so than Pickett against the (injury-rocked) Bills D.
Can Saquon Barkley singlehandedly keep Giants in it vs. Packers? That's pretty much what has to happen over 'ome, as New York has a sore-ankled QB in Daniel Jones and healthy WRs you've never even heard of.
Can Zach Wilson and the Jets keep surprising? It's the 2022 Comeback Kids (A) vs. the 2022 Comeback Kids (B). Take your pick on the order. The Dolphins don't have Tua Tagovailoa but rather Teddy Bridgewater at QB.
Can the Panthers gain 150 yards on the Niners? That's only a half-joke.
Can the Ravens hold Joe Burrow under 400 yards? That's no joke at all. The Bengals QB threw for 525 and 416 yards against Baltimore last year.
Article content
THE BIG NUMBER
9
Number of kickers who have yet to miss a field goal. But of those, only four have also made all of their extra-point tries: Green Bay's Mason Crosby, L.A. Rams' Matt Gay, Carolina's Eddy Pineiro and Arizona's Matt Prater. And of those four, only Gay (57) and Pineiro (54) have attempted and made a field goal from 50+ yards.
FUNKIEST FACTOID
Detroit is averaging 437 total yards per game, Philadelphia 436. Detroit is scoring 35 points per game, Philadelphia 29. And yet Detroit is 1-3, Philadelphia 4-0. Defence still matters, people.
QUOTE OF THE WEEK
"I've watched a lot of bad football. A lot of poor quality of football — that's what I see."
— Tom Brady, Buccaneers QB, a few hours before Colts at Broncos kicked off.
Kryk's straight-up picks for NFL Week 5

KRYK: Russell Wilson — a sack-taking machine
Check out our sports section for the latest news and analysis. Care for a wager? Head to our sports betting section for news and odds.