Raiders' rushing attack has improved by the week, but so has the Chiefs' ability to stop the run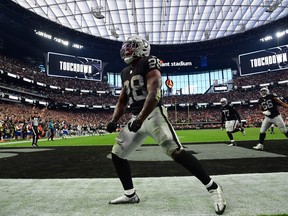 Article content
Andy Reid's Chiefs seldom have lost to the Raiders. Kansas City is 15-3 against that division rival since he became head coach in 2013. It'd be nothing short of a huge upset if Las Vegas notched victory No. 4 in this week's Monday Night Football game (8:15 p.m. EDT, TSN via ESPN). 
Article content
The Raiders got off to the NFL's worst start, 0-3, but handily beat the Denver Broncos last week to give their post-season hopes at least a faint pulse.  
Article content
The Chiefs look as strong through four games (3-1) as any of Reid's Kansas City teams, which of course is saying something. 
The Raiders have been something of an enigma so far. Much more was expected from the roster new GM and new head coach Dave Ziegler and new head coach Josh McDaniels bolstered this past off-season, led by arguably the league's best wide receiver this decade (Davante Adams) and one of the best pass rushers (Chandler Jones). 
Article content
So what might give the Raiders their best chance to win at a raucous Arrowhead Stadium in prime time? Their rushing attack. 
Understand, it ranks only middle-of-the-pack so far — No. 14 — in season-to-date yards. But each week it has become more lethal, especially in last week's win, in which the Raiders slammed Denver's fabulous defence for 212 yards. The Broncos' other four opponents — all of whom love to establish the run, and all in nailbiter games when a rushing attack still was an option, late — gained, in sequence, just 76 yards (Seattle), 80 (Houston), 80 (San Francisco) and 106 (Indianapolis). 
Article content
There's a two-word explanation for the Vegas outlier: Josh Jacobs. The running back led the way against Denver's proud defence, averaging 5.1 yards per carry in amassing 144 yards and scoring two rushing touchdowns. 
Las Vegas' offence, in McDaniels' new scheme, has got better at running the ball by the week: 64 yards, 80, 96 and 212. 
Ah, but the big caveat for this game? Kansas City leads the league in rush defence.  
After allowing 103 yards to Kyler Murray and the Arizona Cardinals in the opener, the Chiefs surrendered just 75 to the Los Angeles Chargers, 82 to Indianapolis and only three to Tampa Bay a week ago. 
This success is not a coincidence, according to Chiefs defensive tackle Chris Jones. This is his fourth year in defensive coordinator Steve Spagnuolo's system, and he said the addition of defensive line coach Joe Cullen this season has refocused defenders on this critical task. 
Article content
"He brings the best out of us individually and the defensive line (as a) group," Jones said Saturday. "We harp on that. We take accountability to stop the run. That's a high priority on our list. 
"It gives us the ability to rush the passer once we stop the run. So it forces (opposing teams) to pass the ball and (lets us) do what we love to do most — get after the quarterback." 
The quarterback for this game is Derek Carr, who, along with the entire Las Vegas offence, struggled in September to implement McDaniels' new offensive plan. More and more effective rushing might be the key to unlock a more effective aerial attack — or at least one we all expected to be elite with Adams' addition to a receiving corps that also includes arguably the NFL's most dangerous downfield tight end (Darren Waller) and one of the most reliable possession receivers (Hunter Renfrow). 
One important player won't play in this game: Chiefs placekicker Harrison Butker, who continues to battle an ankle injury. Matthew Wright will sub in for the second straight week. 
John Kryk writes a weekly newsletter on NFL matters. That's where you can first see his straight-up picks each week. You can have the newsletter automatically dropped into your email inbox on Wednesdays simply by signing up — for free — at torontosun.com/newsletters/ 
@JohnKryk