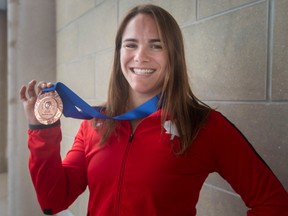 Article content
A new weight class has provided a new spark for Tecumseh freestyle wrestler Linda Morais.
Article content
The 2019 world champion at 59kgs, Morais could not overcome obstacles from the COVID-19 pandemic to reach the 2020 Olympic Games in Tokyo, which were held last year.
Article content
This year, she made late switch to 68kg and the L'Essor high school product was back on the podium at this month's world championships in Serbia as well last month's Commonwealth Games in England.
"It definitely gives me confidence," said Morais, who was one of only two Canadians to reach the podium in Serbia with a bronze medal. "I've never (competed at) 68(kgs) before this year and I wasn't sure. I beat the Olympic bronze medalist (Kyrgyzstan's Meerim Zhumanazorva), so it gives me confidence that I can be up there."
It was a last-minute decision Morais made with coaches David Zilberman and Martine Dugrenier just prior to the Canadian  Wrestling Trials in Edmonton in May to move up in weigh.
Article content
"Without them, I wouldn't be where I am today," Morais said. "Dave's believed in my development over 11 years. Anytime I wanted to walk away, he's pushed me along."
A new weight class just made so much sense for Morais, who won her first international medal for Canada at the Fracophone Games in 2013. 
"It was always a struggle," Morais said to make weight at 59kgs. "It was an extra stress all the time.
"Internationally, I was at 59(kgs) and domestically I was at 62(kgs) and I always had to watch my weight and that takes a toll. At 68(kgs), I can go out with friends, have a meal and not worry. It's a lore more stress free."
And the change of weight has also provided a new and exciting challenge for Morais on the mat.
"It's new and exciting," Morais said. "I really enjoy it because every weight class has a different style. At 59(kgs), wrestlers are firm and quick. At 68(kgs), they're not as fast and try to tie you up."
Article content
Still, she wasn't sure how things were turn out internationally until she captured the silver medal at the Commonwealth Games.
"I know, coming off the Commonwealth Games, I was able to hold my own at 68kgs," Morais said. "Before that, I thought I'd get manhandled and it gave me confidence going to the world championships, but as soon as you step on mat, anything can happen.
"I still had doubts, but I love being on the podium. I was definitely an underdog and the heavyweights haven't heard of me."
With new-found success, Morais is enjoying some much-needed down time with family and friends.
"It's been a good 2022, but more and more I try to make family a priority," said Morais, who is home for a wedding and plans to run a half marathon next month. "It's still not as much as I would like.
Article content
"The world championships are always tough mentally and just to be surrounded by family was much needed. It's been a long summer and even before the Commonwealth Games, there was a camp in Spain."
The success has also given her inspiration to put last year's disappointment of missing the Olympic Games behind and focus on the Paris Olympic Games in 2024.
"I always told myself I would play it season-by-season, year-by-year and day-by-day," said Morais, who turned 29 in July. "I'm getting a little older and I know I'll be done soon, but I'll give Paris a go and then (be done) after that."
She was an alternate for Canada at the 2016 Olympic Games and, coming off a world championship gold medal in 2019, was poised to go in 2020. However, the COVID-19 pandemic hit, the Olympic Games were pushed back a year and Morais simply didn't have proper training before qualifying events were held later.
Article content
"It was devastating," Morais said. "The pandemic hit, I was home and it was hard to get training in. It was challenging for sure and I tried my best, but in the end didn't make it.
"My biggest dream since I was a little girl is to make an Olympic team and it's difficult not to have that box checked."
Morais, who trains out of Montreal, is ready to give it another shot and after that she's looking forward to coming home.
"Many times, at this point, I've thought about retirement many times," Morais said. "I'm looking forward to the next chapter.
"I have a Masters in teaching and I'm excited to start in education and I'd love to start coaching. I would love to come home to Windsor and coach at my old school. They need coaches."
twitter.com/winstarparker
Check out our sports section for the latest news and analysis. Care for a wager? Head to our sports betting section for news and odds.