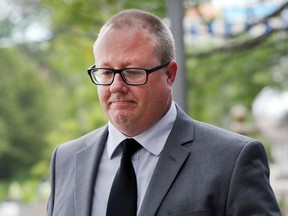 Article content
An undisclosed personal friendship between the judge and the prosecutor in a Windsor murder trial has led to the murder conviction of a local man being tossed out.
Article content
The Court of Appeal for Ontario decision comes nearly five years after a jury convicted Andrew Cowan of second-degree murder in the Oct. 12, 2012, death of his friend Edward Witt following a night of drinking and heavy gambling losses at Windsor's casino.
Cowan's "conviction is the result of a miscarriage of justice. It must be set aside," Justice J.C. MacPherson wrote in an opinion ordering a new trial. Two fellow Court of Appeal justices agreed with the ruling made public Wednesday.
Originally charged with first-degree murder, Cowan was convicted by a Superior Court jury of second-degree murder following a month-long trial, and the judge imposed an automatic life sentence, with the minimum 10-year period of parole ineligibility.
Article content
Between the conviction and the sentencing, however, Cowan's lawyer learned about fraternization between Superior Court Justice Kelly Gorman and assistant Crown attorney Tom Meehan and filed a request for mistrial. After arguments before the judge — Patrick Ducharme called the assistant Crown attorney a "stranger to the truth" and accused Gorman of a "lack of impartiality" — the defence's application was dismissed by Gorman.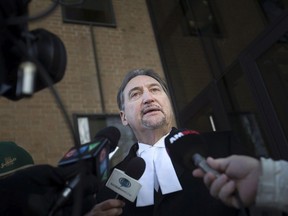 In a two-day Court of Appeal hearing earlier this month, defence lawyers Gabriel Gross-Stein and James Lockyer, the prominent founding director of the Association in Defence of the Wrongly Convicted, argued five grounds of appeal. Justice MacPherson only referred to, and agreed with, the first argument, that there was "a reasonable apprehension that the trial judge was biased and this resulted in a miscarriage of justice."
Article content
Among the "troubling conduct in the case" referred to by MacPherson in the written Court of Appeal decision, was the Windsor judge contacting the trial prosecutor on the day of the jury's guilty verdict and the two agreeing to go out for drinks. Twice during that private rendezvous, Gorman commented about "as long as Mr. Ducharme (defence counsel) doesn't walk in."
An articling student in the Crown's office had also been invited to the rendezvous but reported to a superior the next day that it "definitely was uncomfortable and felt wrong to me."
Meehan was subsequently suspended with pay for five days. During the defence's unsuccessful mistrial application before the trial judge, a regional Crown counsel described the socializing as "ill-advised" but that any decision regarding a mistrial should be made by an appeals court.
Article content
Justice MacPherson wrote that, "whether the trial judge was actually biased or not is not the issue. The mere appearance of bias is enough."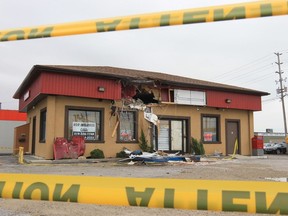 Witt, 55, died a decade ago in a spectacular crash as he sat in the front passenger seat of a Ford F-150 driven by Cowan. Ducharme told the jury it was the result of a "suicide pact" between the two men. A police investigation revealed the pickup was travelling up to 150 km/h when it went airborne and crashed into the second storey of a Leamington commercial building.
Cowan was seriously injured and suffered what his lawyer described as a "catastrophic brain injury" requiring almost constant care. The judge concluded the trial by saying what happened that night remained "uncertain."
Article content
Driver who killed friend in crash sentenced to life with no hope of parole for 10 years

Judge dismisses mistrial request in Andrew Cowan murder case

Driver accused of murder texted a friend that he and his passenger were committing suicide
Contacted Wednesday night, Ducharme told the Star he was "delighted" with the Court of Appeal decision and awaits the Crown's decision on how to proceed. Cowan has spent very little actual time behind bars since his arrest a decade ago, and Ducharme said he remains under the guardianship and care of two aunts.