Since forming Raincity Theatre in 2018, Chris Adams and Nicol Spinola have produced two musicals, Sweeney Todd, and, in 2019, Company.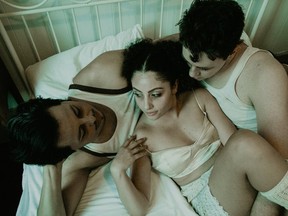 Reviews and recommendations are unbiased and products are independently selected. Postmedia may earn an affiliate commission from purchases made through links on this page.
Article content
Cabaret
When: Oct. 15 to Nov. 5
Article content
Where: The Kit Kat Club, 191 Alexander St., Vancouver
Tickets: $31.79 to $95.54 at raincitytheatre.com
When Chris Adams and Nicol Spinola formed the site-specific musical theatre company Raincity, Cabaret ranked high on their to-do list.
"I had bought the source material, the Christopher Isherwood novel and the original play 'I am a Camera', years before," said Adams, who is directing. "It's been in the back of my mind for a long time."
"I was with the show for another company in Vancouver about 15 years ago," choreographer Spinola said. "Ever since that experience I have loved this piece of work. It just felt necessary for myself and for Chris. We've been waiting to do it for a long time in the right venue."
Since forming Raincity Theatre in 2018, Adams and Spinola have produced two musicals, Sweeney Todd, and, in 2019, Company. They took place in a Gastown retail shop and a Mount Pleasant art gallery, respectively. For Cabaret, the company is recreating a Weimar-era nightclub in an old bank building on the border of Railtown and Gastown.
Article content
"We tried to secure the venue and to have an idea of what it would look like before casting," Adams said.
After months of location scouting, during which he had seen one-to-two venues per week, they found their site.
"In the end, we've always ended up with the best option for us, even if we didn't know it at the time. All three venues that we've picked could not have been suited better to those shows."
Featured in the musical are Alex Gullason as singer Sally Bowles, Nick Fontaine as American writer Cliff Bradshaw and Graham Coffeng as the MC, immortalized in the movie version by Joel Grey. Coffeng played Lumiere in the Arts Club's 2018 production of Disney's Beauty and the Beast.
"In his email back to us, he called it a 'dream role,' " Adams said.
Article content
"The role of the MC is a tricky one," Spinola said. "He has to bring the audience in after some very heavy moments."
For Raincity's Cabaret, Adams procured the rights to the 1993 West End production, directed by Sam Mendes. The original Broadway show opened in 1966 and was revived in 1987.
Spinola is adapting the choreography for the space.
"Bob Fosse, who created the choreography for the movie, had such a unique style that he created his own vernacular of movement," she said. "While I am honouring what he's done, I'm taking it in a direction that allows our group of performers to tell their own stories as characters as in ways that fit our space.
"Unlike traditional musical theatre, where you have a giant stage and lots of space, our venue requires that we do a lot of planning to position the dancers."
Article content
There'll be a liquor licence at this Kit Kat Klub, and ticket-holders will feel like they've entered a cabaret rather than a theatre from the moment they walk through the doors.
"Yes, you're going to see a traditional version of a musical, but we create events," Adams said. "It is an experience that we want to bring people into, not just a fantastic production of the musical."
Indeed, Raincity's news release promises "a raw theatrical experience on a knife's edge between unbridled sexuality and impending catastrophe."
Adams says that the intimacy of the immersive experience is key to the production.
"There isn't a wall between you and what you're watching," he said. "You're not sitting in a 1,000 seat theatre, one hundred seats away from the show. It takes place around you. The dancers are performing all around you. The scene work is happening up-and-down the aisles. You will be immersed in this world. And that instantly brings people closer to the material, and that makes them listen and understand even more."