"I think we'll have just as good of a team as anybody else in this league … We're all dialed in, looking forward to showing what we can on the ice."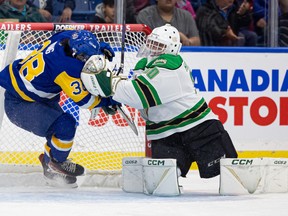 Article content
After opening the new season with two wins last weekend, the Saskatoon Blades will introduce fans to an all-new lineup this weekend.
Article content
The Blades are welcoming back veteran forwards Josh Pillar and Conner Roulette from National Hockey League camps, together with newly-acquired 20-year-old defenceman Blake Gustafson.
Article content
An undefeated team gets even stronger.
"We're better with these guys in the lineup, naturally," said Blades head coach Brennan Sonne, whose team hosts the visiting Swift Current Broncos in Western Hockey League action Saturday night (7 p.m. game-time) at SaskTel Centre.
"Bigger, older … It's going to be nice to get going with these guys, you know."
Sonne has described the start of a new season, and home-openers, as somewhat chaotic. Things haven't quite settled down, but the Blades now have everybody back from their respective NHL camps.
Article content
"That's the early-season issues that I kind of mentioned about last week," said Sonne. "Guys are gone to NHL camps. You make deals. Things like that. You're just trying to get guys integrated and up to speed, as quick as possible."
Gustafson, a defensive-minded D-man who posted an impressive plus-35 rating last season with the Red Deer Rebels, joined the Blades on Thursday morning.
"It's all been really quick for me," admitted Gustafson, a 6-foot-3, 203-pound D-man from Ardrossan, Alta. "I just found out (Wednesday morning) that I was coming here, but they've all been really inviting to me and very optimistic. I'm very excited about it, to bring what I have here. I think I can fill a spot and I'm just planning on bringing intense, defensive contact, first-pass, block shots — all that stuff."
Article content
It's been quick, too, for the Blades coaching staff.
"Everything is positive," said Sonne. "A really good guy so far. Nice to talk to. It does take a while, though. You can't just show, 'Hey, here's our system on video and this is what you do' and just do it automatically. You have to practise it. You have to get game reps and practice reps. It takes a little bit of time."
Pillar returned from the NHL Minnesota Wild camp earlier this week.
"I'm super excited," said the 20-year-old forward from Warman who joined the Blades last season. "It'll be nice to get out there, kind of feel the pace and get used to playing with different guys and just having some fun.
"I'm guessing the pace won't be quite as fast (as NHL), but it's still a super-good league and still super-good players playing in it, so I think it's just getting used to playing against a little smaller guys and not playing against those big pros. I'll probably just go out there and have a little more confidence and play a little heavier.
Article content
"It looks like we've got a great group on and off the ice. We're just looking forward to getting out there and playing some hockey."
Roulette, who was acquired from the WHL Western Conference champion Seattle Thunderbirds in a trade that sent over-ager Kyle Crnkovic to the West Coast, returned to Saskatoon from the NHL Dallas Stars' training camp. He was a fourth-round draft pick in 2021.
"It's a great experience, just to get out there with the big guys," said Roulette, a 19-year-old native of Winnipeg, Man., who had 24 goals and 42 assists for 66 points in 65 games last season with Seattle before adding 18 points in 25 playoff games.
"It was good to get that experience and start the season off with some really good, fast hockey … The Texas heat is a lot hotter than here and I'm really looking forward to the winter. I'm happy to be back here. It was a good experience, for sure."
Article content
Roulette wasn't expecting to be traded in the off-season but he appears to be right at home in Saskatoon.
"Heading into Seattle, I was really looking forward to the group we were going to have, but coming here, being here for the last few days, obviously the boys are 2-and-0, I think it will be just as good," he said.
"I think we'll have just as good of a team as anybody else in this league. We're going to come out, showing who the Blades are. We're all dialed in, looking forward to showing what we can on the ice. I think we're going to be a really good team."
Blades open season with weekend sweep against P.A.

This win was Parr for the course

Molendyk a man in motion for Saskatoon Blades
The news seems to be flying at us faster all the time. From COVID-19 updates to politics and crime and everything in between, it can be hard to keep up. With that in mind, the Saskatoon StarPhoenix has created an Afternoon Headlines newsletter that can be delivered daily to your inbox to help make sure you are up to date with the most vital news of the day. Click here to subscribe.