"This bill is the most promising legislation since the long-gun registry was abolished in 2012."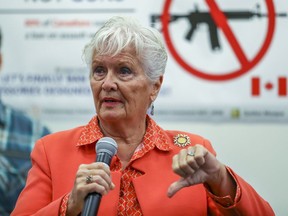 Article content
Gun-control advocates and mass shootings survivors welcomed the new firearm-control legislation introduced Monday by federal Minister of Public Safety Marco Mendicino.
Article content
"This bill is the most promising legislation since the long-gun registry was abolished in 2012," Nathalie Provost, a graduate of Montreal's Polytechnique graduate who survived the 1989 shooting, said in a statement. "And given the strength of the measures that have just been proposed, we remain optimistic."
A key component of the bill is a national freeze on importing, buying or selling handguns. The government says the bill would also allow for the removal of gun licences from people involved in acts of domestic violence or criminal harassment, such as stalking.
Mendicino has already tabled regulatory amendments in Parliament to ensure the national freeze on handguns can be implemented swiftly, the government said Monday in a news release.
Article content
Provost praised Mendicino and Prime Minister Justin Trudeau for listening to victims, advocates and experts in opting for the handgun ban, which reverses an earlier position.
"These are substantial, effective, popular and historical measures that will take Canada in the right direction, consistent with our values and our common desire to never go down the path of our neighbours to the South," she said.
While a complete and lasting ban on assault weapons is not part of the bill, Mendicino "has committed to amending it so that the final version includes such a ban," Provost said.
Suzanne Laplante-Edward, who created a foundation that supports gun control after her daughter Anne-Marie was killed at Polytechnique, also expressed hope that the bill will pave the way for an assault-weapon ban.
Article content
"It is cruel thing that, 32 years after our daughters were murdered in a mass shooting with a legal assault weapon, Canada still does not have a comprehensive and permanent ban on such weapons," she said. "However, today we have reason to be more optimistic than ever."
Mendicino "has delivered what Canadians want: a ban on new handguns and a phase-out of existing ones," added Boufeldja Benabdallah, co-founder and spokesperson for the Quebec Mosque where a gunman killed six worshippers in January 2017. "Today we celebrate while also calling on Canadians to communicate their support to their elected members of Parliament, as all we know that the gun lobby will fight this bill tooth and nail."
The bill comes on the heels of a Statistics Canada report released Friday that found firearm-related homicides are up 37 per cent over the last 11 years, and handguns were the most commonly used weapon in such crimes.
Article content
In November, in the wake of two fatal shootings of teenagers in Montreal, Mayor Valérie Plante and Quebec Premier François Legault called on the federal government to ban handguns across the country and do more to prevent them from coming over the Canada-U.S. border.
Cabinet ministers in the Trudeau government, appearing annoyed at the criticisms levelled by the premier and mayor of Montreal, responded by reminding them it had agreed to cede control of handguns to the province. Previously, the federal government had sought to cede control to individual municipalities, arguing that views on gun controls differ in separate jurisdictions.
PolyRemembers — the gun control advocacy group formed in the wake of the 1989 Polytechnique mass shooting in Montreal — and other advocacy groups and politicians have criticized this approach, saying it would create an ineffective patchwork of rules in Canada.
On Monday, Plante tweeted here support of the legislation.
"I welcome the strong signal sent today by the government of Canada, which proposes national tools to fights against armed and domestic violence. This is a gain for safety in Montreal and in all cities across the country."
Article content
Canadian Press contributed to this report
Legault, Plante agree to push feds to ban handguns