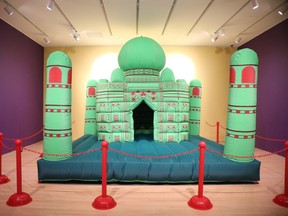 Reviews and recommendations are unbiased and products are independently selected. Postmedia may earn an affiliate commission from purchases made through links on this page.
Article content
A bouncy-castle version of the Taj Mahal, a postcard to the King asking for the repatriation of a priceless diamond, a replication of an 18th-century Maroon camp and an installation symbolizing the death of old institutional practices in Canadian art museums are among the highlights of a powerful new exhibition at the National Gallery of Canada.
Article content
The exhibition showcases the work of the five emerging Canadian artists who are shortlisted for this year's Sobey Art Award, which is internationally recognized as one of the world's most generous privately funded prizes for contemporary visual artists. The jury chose one finalist for each of the five geographical regions in Canada.
Article content
The $400,000 purse is divided between the 25 nominated artists, with a grand prize of $100,000 for the winner, $25,000 for the shortlisted finalists, and $10,000 each for the long-listed artists. The winner will be revealed during a ceremony at the gallery on Nov. 16.
The exhibition is on view until March 12, 2023. Here's more about each of the short-listed artists and their work:
Article content
Azza El Siddique
Ontario
A large-scale steel installation that appears to inhale and exhale water through a series of clay jugs is an example of the meditative work of Azza El Siddique, 38. Born in Khartoum, Sudan, raised in Vancouver and now based in Toronto, El Siddique always wanted to be an artist but took a long time to get there, partly because she never thought it was feasible as an immigrant to pursue an artistic practice. "I think the thing that's really exciting for me is to have the representation as a queer woman of colour coming from a Muslim background, for younger generations to be able to see they can exist in spaces like this," she says. "I hope they can pursue their dreams a lot sooner than I ever did."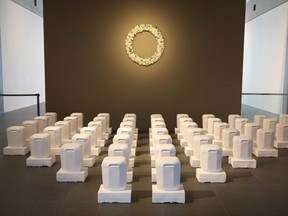 Stanley Février
Article content
Quebec
A graveyard installation entitled The End of a World by Stanley Février represents the change that's happening in the art world as the institutional practices that favoured white men give way to a new era of inclusiveness. For Fevrier, a 46-year-old Montrealer, the piece began in 2015 when he started wondering what impact the colour of his skin was having on his career. He soon learned there was no data on the numbers of racialized artists in gallery collections so he set out to do his own analysis to prove the bias he suspected. "It's time for change," he says, noting that the Sobey shortlist has already made a difference in how his work is regarded. "I make my works not for me, but for us. We're all in this together."
Article content
Divya Mehra
Prairies & North
You can't miss the bouncy-castle rendition of the Taj Mahal created by Winnipeg's Divya Mehra, 40, who says the idea for Afterlife of Colonialism came to her when she started thinking about how symbols of the South Asian diaspora exist in the cultural imagination of society. A smaller but equally potent example of her work is a framed postcard to King Charles asking for the repatriation of the Koh-i-Noor Diamond to India. Previous requests for the 105.6-carat diamond's return have been rejected.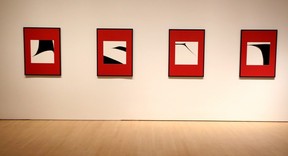 Krystle Silverfox
West Coast & Yukon
A chunk of Hudson's Bay blanket with a fringe that unravels into pennies is emblematic of Krystle Silverfox's multi-layered works. Entitled All That Glitters is Not Gold …, it was inspired by the conflict that exists between the mining company that she says doesn't consult with her First Nations community but does share some profits with the band, and the fact that some of that money benefits students like her. "I really like to think of my art as being about minimalism, materials and politics," says the 38-year-old artist. "I was thinking, 'How can I make a piece that reflects who I am as an Indigenous woman that also subtly shames the mining company?'"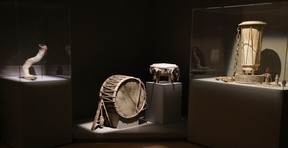 Tyshan Wright
Atlantic
The work by Halifax-based artist Tyshan Wright, 42, evolved from his research into the Maroons exiled from Jamaica and sent to Nova Scotia by the British. It includes a replica of a Maroon camp, complete with the drums that were banned upon their arrival. "The work is coming from centuries of struggle," Wright said. "My ancestors were denied these instruments when they were exiled. This was the instrument that kept the spirit of them alive so this is about using these instruments in a broader perspective to bring a collectiveness in the world."