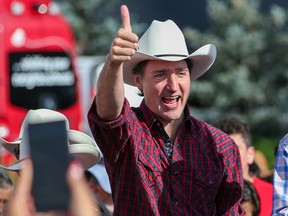 Article content
A wise man mentioned something the other day as we bemoaned the lack of political leadership in our country and the rut Canada finds itself in.
Article content
It concerned a strategy used by Ralph Klein when premier and no doubt formulated by his longtime sidekick, Rod Love.
They'd pick one pressing need, something ordinary Albertans understood and, for the most part, agreed with. Then they'd pronounce upon a solution to that issue over and over again.
"We're going to build 20 new schools across the province," being the example mentioned.
This approach had several advantages. First, it was a big, ambitious plan, yet one easy to grasp and entirely quantifiable. Plus, it provided a wonderful response whenever the latest interest group or persistent backbench MLA arrived looking expectantly for government cash.
"Yep, that's a great idea," Klein could answer. "But first, we're going to build those 20 schools."
Article content
Brilliant. After all, who could subsequently argue our kids' education be jettisoned for some alternative project, especially one in which the proponent had skin in the game. As politics go, that's about as smart as it gets.
Those around in the mid-1990s will remember that first Klein government. Sure, many suffered through some nasty cutbacks in provincial spending. Yes, those were real cuts, not some financial sleight of hand that simply involves trimming previously announced budgetary increases.
But while many were angry — some still remain so — nobody was confused about the government's priority: cutting spending, not hiking taxes and getting out of the business of business (something Don Getty's previous Tory regime did with abandon.)
Article content
Fast forward to this sun-drenched week of mid-July 2022. Can anyone declare, with any certainty, the priorities of any government or political entity we Calgarians encounter?
Of course, the politicians and their sidekick bureaucrats down at city hall, up in Edmonton and away in Ottawa, will pronounce upon endless oodles and noodles of priorities — they'd still be going strong long after those weary, wayward cows have not only arrived home but are asleep for the night.
That's the problem. It's spaghetti politics: throw everything against the wall and whatever that paid-for pollster tells them sticks, they'll go with that. At least until this relentlessly messy exercise is repeated the following week.
Nowhere is it more pronounced than with the entire climate change/global-warming maelstrom.
Article content
We're supposed to be saving the planet — though that's pure hyperbole. It's our rather comfortable spot on this big rock we're actually discussing. The planet itself isn't in danger of destruction, having been hotter and far colder, yet survived well enough. Honestly, we're immensely arrogant animals.
So, politicians who were attacking the use of fossil fuels six months ago and urging ever-higher carbon taxes are now bellowing for yet-larger government subsidies to relieve those burgeoning monthly electricity and natural gas bills. Try finding a policy out of that dichotomy. Ask our provincial NDP for help.
Meanwhile, Calgary city council intends to implement some mind-numbing $87-billion scheme to get us to net-zero emissions by 2050.
Article content
There's probably a kitchen sink buried somewhere in the plan's details, but it's essentially an exercise in moral grandstanding, one followed by an inevitable slow deflation, until it resembles some sad, week-old birthday party balloon discovered beneath a side table.
Still, it must feel empowering, talking about snatching billions of other folks' future cash while still clinging to that free city hall parking spot. Ouch. Is that a nerve I see before me?
Then there's our federal government. Its only discernable strategy is endless apologies for the past, uplifting vague promises about the future while ignoring a totally screwed-up present. (We can't fly, we can't talk on the phone, but the PM holds a weekend news conference to apologize for the racist treatment of a unit of Black soldiers in the First World War.)
There's no plan. There's only endless theatre.
Maybe we don't need 20 new schools in Alberta today. But let's build them anyway. If only to show we still can.
Chris Nelson is a regular columnist for the Calgary Herald.