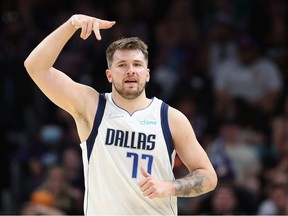 Article content
With the NBA regular season right around the corner, let's take a look at which superstars have the best odds of taking home NBA MVP honours for this year.
Article content
Luka Doncic +400
Article content
The Dallas Mavericks franchise cornerstone is heading into his fifth NBA season and has cemented himself as one of the premier players in the league. It helps that the Mavericks are coming off a Western Conference Finals appearance and have added some nice pieces in Christian Wood and Javale McGee up front. However, they lost guard Jalen Brunson to the New York Knicks and don't have great odds to win the NBA Championship this year (20-to-1). Team success isn't the be-all and end-all for MVP voting, but it doesn't hurt to play well on a winning team to help make your case.
Article content
Joel Embiid +600
It was a monster season for the Sixers superstar last year, averaging 30.6 PPG, 11.7 RPG and 4.2 APG as he finished runner-up for the MVP award. For someone that has dealt with injuries in the past, Embiid was able to suit up for 68 games. With a full season of James Harden ahead for Philadelphia, it'll be interesting to see how much, if at all, he will eat into Embiid's numbers. Still, it's hard not to think that Embiid is going to get his no matter who is playing next to him.
Article content
Giannis Antetokounmpo +650
The Greek Freak won back-to-back NBA MVPs in 2018 and 2019 and was in the mix last year as well. The reality is, he's always going to be in the mix because of the insane stat lines he puts up year after year. It's also possible that there's another level Antetokounmpo can get to and if so, look out. The Bucks are once again a title contender which could tip the scales for Giannis if it comes down to a separator.
Kevin Durant +850
After an off-season full of drama, Kevin Durant will begin the season as a member of the Brooklyn Nets. Durant is no stranger to outside distractions, but one thing is always clear: when he's on the court, healthy and playing, he's an absolute force. In 90 games as a Net, Durant is averaging 28.7 PPG, 7.3 RPG and 6.1 APG. With the mercurial Kyrie Irving ready to (maybe) play a full season, that should help take the load off of Durant and keep him healthy for a full year.
Article content
Nikola Jokic +900
Can't talk about the MVP award without including the back-to-back winner from the last two seasons. Jokic has led the NBA the last two years in whatever advanced stats you want to look at from player efficiency rating (PER), win shares (WS), box plus/minus (BPM) to value over replacement player (VORP). He'll be a beast once again and seems to offer good value for his price. If Jokic is able to win a third straight MVP, he would become only the fourth player to do so.
-Rob Wong
Information in the above article is for entertainment purposes only and is not targeted to under 19 audiences. Using this information to contravene any law is prohibited. Visit the Responsible Gaming Council's Safer Play to keep gambling safe and fun.